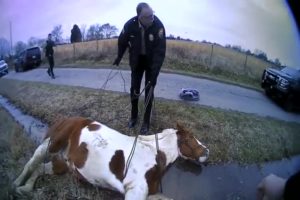 Horse Wrapped In Barbed Wire Gets Rescued From Ditch In Oklahoma
A poor horse that managed to get wrapped around in barbed wire was rescued by the authorities after it was found lying in a ditch.
According to the Muldrow Police Department in Oklahoma City, USA, a local mail carrier spotted the horse in a ditch around 10 AM last week.
The mail carrier informed the authorities.
Just another different day at work!

Cold outside, windy, and hoping we didn't have too busy of a day but around 10:00 am, Matt Goodson, a local mail carrier, called the PD and said that there was a horse in the ditch, wrapped up in barbed wire, and didn't look like it was doing very well. Everyone at the PD went to the scene and you can see for yourself; it took everyone. Thank goodness for the call, us being able to get him up, and the loving care his owner gave him when we got him to the barn. May you add many years to your 18 years Big Boy Mars. Creativity played a big roll in saving you buddy.

Posted by Muldrow Police Department on Thursday, 6 February 2020
A video of the incident was shared by the police department.
The video shows a large group of police officers helping the horse get back on its feet so the barbed wire could be removed from the animal.
The horse was returned to the owners.
The owners said the equine is 18 years old and is named Mars M.C.
The horse is currently recovering from the injuries that it sustained in the incident.