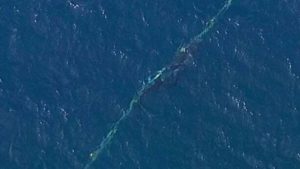 Man Is Facing Massive Fine For Jumping Into Ocean To Free Baby Whale That Got Trapped In A Net
A man from Australia is currently facing a massive fine for jumping into the ocean so he could free a baby whale that got trapped in a net.
The man, who is being called as Django, was spotted by a drone diving into the waters of the Gold Coast after he noticed a baby whale having a hard time in swimming.
During an interview with the local news, Django said:
I saw a whale and thought, 'that's pretty cool'. I saw it was in the net and thought, 'well, that's not that cool'. Basically I just tried to untangle him.
The incident happened when Django was in a place called the Queensland Department of Fisheries.
Upon realizing that something was wrong, Django took the matters into his own hands.
The whale, which is believed to a be a humpback whale, was decently tangled in a net and was trying to dive down.
These 2 facts made it extremely difficult for Django to free it.
He told reporters that thankfully he is experienced with free driving, he managed to get deep in the ocean.
Django added:
But because of the adrenaline, about 2m [down] my heart was just pumping…so that's why I had to keep coming up and going down.
However, his kind acts will end up in a wrong turn.
In Queensland, Australia, it is not allowed for people to tamper with a shark net or coming close proximity to a whale.
It is believed that he could be fined up to $46,000 for the kind act that he did.
Django talked about the fine, he said:
I'm in trouble. It was an expensive day, but whatever. There are laws. They [fisheries officials] do a good job. It is what it is. I thought most people would have done it. You just got to pay the price sometimes.
The Queensland Fisheries has reportedly launched an investigation into the incident.
It is still unclear whether an infringement has been handed out.
An online fundraiser has been started to help Django, the kind man, pay the fine.
The GoFundMe page that was set up has raised over $4,000 AUD.
The GoFundMe  states:
A local guy now a legend in the eyes of the local community rescued a baby whale stuck in shark nets off Burleigh Headland. The authorities have now fined this legend. This page is to cover the cost of his fine, as we are unsure yet what that amount will be ($1,300 – $55,000) any money raised over and above his fine will go to a charity that specialises in research and education for these great mammals.
Mark Furner, the Queensland Fisheries Minister, warned people to stay away from such things and leave these incidents towards professionals.
Minister Furner said:
I encourage people to allow the professionals to do their job and make sure they release any marine life that may be unfortunately caught up in this equipment. It is dangerous equipment, we have obviously seen loss of life of people themselves being entangled.
Let us all hope that Django does not get fined for his kind act.