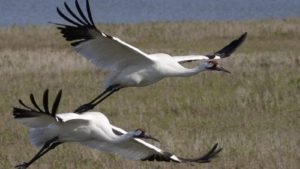 Man Ordered To Pay $85,000 And Do 360 Hours Of Community Service For Killing 2 Whooping Cranes
A man who admitted that he and a juvenile shot and killed 2 whooping cranes in 2016 has been ordered to pay $85,000.
Not only that, but he is also asked to perform 360 hours of public service before he could hunt again.
According to reports, the sentence that was given to Kaenon Constantin of Rayne is the toughest ever in Louisiana for a crime involving one of the endangered birds.
The news was confirmed by the International Crane Foundation said in a news release.
Whooping cranes are amongst the world's rarest birds.
They are the largest cranes in North America.
Constantin pleaded guilty to a misdemeanor violation of the Lacey Act, which makes it illegal to transport wildlife, fish, or plants taken in violation of any other state, federal or foreign law.
Constantin was ordered to pay $10,000 in fine and $75,000 in restitution to the state Department of Wildlife and Fisheries.
According to Liz Smith, the program director of the International Crane Foundation North America,  it costs nearly $94,000 to raise, release, and monitor a whooping crane in Louisiana.
It is said that Constantin and a juvenile shot the 2 cranes in May 2016 in Acadia Parish.
After finding out that the one that they had retrieved had a transmitter, they cut off its legs and threw the transmitter into a crawfish pond.
The U.S. attorney's news release said:
When initially approached by investigators shortly after the crime, Constantin lied about his involvement, causing the investigation to continue for nearly two more years before he finally confessed in April 2018.
The 2 cranes that were killed in the incident were both hatched in captivity in 2015 at the Patuxent Wildlife Research Center in Maryland and taken that December to White Lake Wetlands Conservation Area in Gueydan, Louisiana.
They were in the wild for about 5 months and in the Rayne area for about 1 month.
Do you think the punishment Constantin got is enough? Let us know what you think by leaving a comment below!