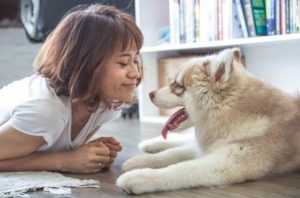 New Study Says The Heart Rate Of Your Dog Increases Every Time You Tell Them "I Love You"
A new study concluded that every time a pet owner says "I love you" to their pet dogs, the heart rate of the pooches increases.
If this is not lovely, I do not know what is!
But how do you know if your dog loves you? Well, if a dog licks your face, jumps into your lap, or barks like a little kid when you come home after a long day, it means that they love you and you are everything for them.
According to a recent study that was carried out by researchers at Canine Cottages, they said that the heart rates of dogs increase every time you tell them that you love them.
Puppies were equipped with heart rate monitors for the study and they were guided through a series of scenarios over the course of 7 days to look at how they react to each scenario.
The tracking data revealed that 4 dogs averaged a resting heart rate of 67 beats per minute, but when the owners said "I love you" to their pets, the heart rates of the pooches increased.
Not by a small amount, but instead, an increase of 46.2 percent was seen.
The study said that the heart rates of the dogs shot to 98 beats per minute after they were told that they were being loved.
Not only that, but this study found out a number of good things.
The study found out that the heart rates of the dogs increased by 10.4 percent when they set eyes on their hooman.
When it comes to cuddling times, the heart rates of the canines decreased by 22.7 percent.
It's all about love, right?
What are your thoughts about this amazing study? Let us know what oyu think by leaving a comment below!