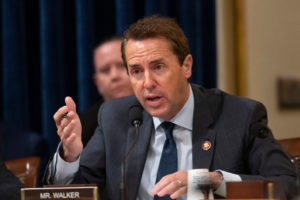 Christian Afghan Skinned Alive By The Taliban Before Being Hung On Pole Says Former US Congressman
Kabul, Afghanistan: Former US Congressman says that a Christian Afghan person was skinned alive by the Taliban before they were hung on a pole.
Mark Walker, a former US Congressman, said that a Christian Afghan was skinned alive and was hung on a pole by the Taliban.
During an interview with Todd Starnes, a radio host, Mark said that the Christian community in Afghanistan is in danger.
Talking about the incident, they said:
I hate to use the word frightened or scared, but maybe that's apropos in the situation when you're talking about trying to maintain human life, they're trying to protect. There are stories where one uncle that was connected with a Christian family was skinned alive and hung on a pole., They were connected with a family who would not recant, and they took their uncle and in front of them, skinned him alive and hung him on a pole.
The thing is, Walker could not provide the source.
When asked by Todd, Mark said that he could not share all the details.
They added:
I can't get into all the details on it, but some of the assets and contacts who still have people working there, both on the ministry side as well as some of the assets that we've had on the ground for the last few years is where some of that information is being able to force derivative.
This is not the first time a similar news has made headlines after the Taliban took over the Islamic State of Afghanistan.
Recently, it was revealed to the public that a woman was brutally tortured and killed by the Taliban because they could not cook good food for them.
Najla Ayoubi, a former judge from Afghanistan, said:
They are forcing people to give them food and cook them food. Also, there are so many young women are being in the past few weeks being shipped into neighbouring countries in coffins to be used as sex slaves. They also force families to marry their young daughters to Taliban fighters. I don't see where is the promise that they think women should be going to work when we are seeing all of these atrocities.
Right now, Afghanistan is trying to officially form a government, which could potentially be lead by Mullah Abdul Ghani Baradar.