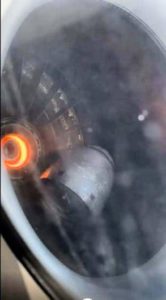 Passenger Records Delta Air MD-88 Flight 1425 Horrific Engine Failure On Smartphone
Everyone loves to travel by plane and just watch the beautiful view outside the window, but one thing a passenger never wants to see is the plane's engine failing or on fire.
In a video that was shared by Logan Webb, a Twitter User, one of the engines of the Delta Air Flight 1425's engine had one of its spinners detached and rattling around inside the inlet.
Video I took from my seat on my flight from Atlanta to Baltimore yesterday! Thanks @Delta for the silly smooth emergency landing! #perfect #execution To use this video in a commercial player or in broadcasts, please email [email protected] pic.twitter.com/TUFzREl0Lc

— Logan Webb (@Micahlifa) July 9, 2019
According to the NBC News, the Delta Air Flight 1425 was a "32-year-old [McConnell Douglas] MD-88 with the engines mounted on the fuselage near the tail."
The Flight 1425 departed from the Hartsfield-Jackson International Airport on Monday afternoon and was on its way to Baltimore-Washington International Airport.
The incident reportedly happened one hour after the flight took off.
The crew announced that an emergency landing will be done at the Raleigh-Durham International Airport.
The horrific incident delayed the flight of 148 passengers that were onboard the plane, luckily, no one sustained any injuries in the incident.
Delta Air has apologized for the inconvenience they brought to all of their passengers and provided $30 food vouchers during their stay at the Raleigh-Durham International Airport.
The Flight 1425 used an MD-88 Aircraft which is registered as the N906DL in the United States of America. The plane is around 32 years old and was delivered to the airline company on April 24, 1987.
The airline company is going to retire all their MD-88 aircraft.