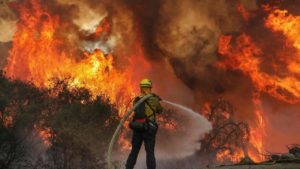 California Wildfires: Firefighter Dies In Blaze That Was Sparked By Gender Reveal Party
A firefighter in the United States of America has passed away while they were battling the wildfires that were sparked by gender reveal party.
The news was confirmed by officials.
The El Dorado Fire in San Bernadino, California, was ignited on September 5, 2020, during a gender reveal party.
Reports suggest that a smoke generating pyrotechnic device was used at the party.
The fire that party ignited has burned over 21,000 acres of land and this week, a firefighter died tackling the blaze.
The San Bernardino National Forest Service confirmed the news and issued a statement on social media, where they said:
USDA Forest Service officials on the San Bernardino National Forest have confirmed the death of a firefighter on the #ElDoradoFire. The incident took place on Thursday, September 17, 2020. The name is being withheld pending notification of next of kin. Our deepest sympathies are with the family, friends and fellow firefighters during this time. The cause is under investigation. More details will be made available as they are confirmed.
As of September 18, 2020, the fire has been 66 percent contained by the authorities.
Over 1,300 firefighters have been trying to get the fires under control, and 12 of them have been injured throughout the process.
4 houses have been burned to ashes.
Captain Bennet Milloy of Cal Fire said criminal charges against the couple who held the party were being considered.
However, the criminal charges would not be filed until the fire gets extinguished.
The couple who carried out the party will be liable to cover the cost of fighting the entire fire.
It was reported that the smoke-generating pyrotechnic machine was set off in a field in El Dorado Ranch Park at the foot of the San Bernardino Mountains.
The machine ignited dry grass, however, the couple failed to do anything because they only had bottled water with them.
The identity of the couple was not revealed to the public.