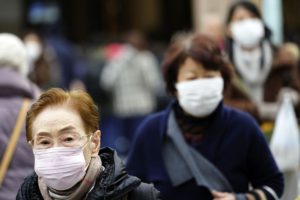 Coronavirus Death Toll: Deadly Coronavirus Kills 424 In China And Infects Over 20,430 People
The death toll of the deadly coronavirus is now at 424 and has infected 20,438 people in China.
China has also admitted that there have been shortcomings and difficulties in its response to the flu-like infection.
The National Health Commission of China reported 64 new fatalities as of midnight on Monday, which was the biggest daily increase of the virus.
Wuhan and Hubei, a neighboring province, have been sealed off from the rest of the country for over a week.
On Monday evening, the Standing Committee of the Politburo, the top leadership of China, met in Beijing and acknowledge the shortcomings and difficulties in China's response to the outbreak.
While reporting from Hong Kong, Adrian Brown, a reporter of Al Jazeera, said, "This very rare sort of language to hear."
Brown added, "This was the senior leadership of the party essentially admitting they had failed the people. They said officials who had made mistakes would be punished. And they said China would have to improve the way it responded to this sort of national emergency in the future."
Coronavirus In Other Countries 
The foreign ministry of Taiwan said the island will deny entry to all foreign nationals who had been to China during the past 14 days.
Macau will close all its casinos for 2 weeks because of the deadly coronavirus.
The civil aviation authority of China has urged domestic carriers to continue flying to international routes, except to countries with travel bans as a result of the epidemic.
On Wednesday, Malaysia brought back 107 people, which includes citizens, non-Malaysian partners, and children from Wuhan. They are all in quarantine right now, but 1 person has been infected with the virus.
India has reported the third coronavirus in Kerala. The student was studying at the Wuhan University. The medical student is currently in an isolation ward at the Kanhangad district hospital in Kasaragod. The confirmation was done by K K Shailaja, the health minister of India.
Earlier today, Hong Kong reported its first death from the virus, which is the second one outside the country. The Hong Kong victim was a 39-year-old man from Wuhan, China, the place where the virus originated. The man had underlying health problems.
The first death outside China was reported in the Philippines on Sunday.