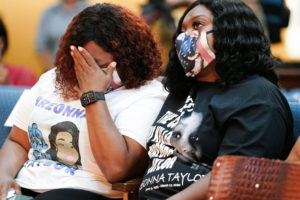 Family Of Breonna Taylor Will Receive $12 Million In Louisville Settlement
The family of Breonna Taylor, the black woman that was gunned down by the authorities during a wrong house raid, will be getting $12 million USD in settlement from the city of Louisville, Kentucky.
The news was confirmed by NY Post on Tuesday.
It is reported that the city of Louisville will shell out the eight-figure sum and institute a number of police reforms.
The deal will be announced during a press briefing at Mayor Greg Fischer's Office.
This is currently the largest sum ever paid by the city in a police misconduct suit.
In 2012, a man from Louisville got $8.5 million as he was wrongfully imprisoned.
26-year-old Breonna Taylor was sleeping in her house in the wee hours of March 13, 2020, when the police executed a no-knock warrant.
It is reported that the cops just burst in and open fired, this killed the 26-year-old woman.
Investigators believed that the former boyfriend of Breonna Taylor was using the apartment to hide drugs, however no narcotics were found by the authorities during the raid.
A grand jury is currently looking at the possibilities of putting criminal charges against the police officers that are involved in the incident.
The name of Taylor has become a rallying cry at BLM (Black Lives Matter) protests.
Our thoughts and prayers are with the family of Breonna Taylor, may her soul rest in peace and may justice be served.