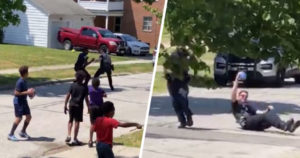 Ohio Police Officers Called On Black Kids Playing Football Respond By Joining The Game
With all that's going on in the United States of America right now, you can say that racism is present and that there is a lot of things that should be done in the country.
However, like everything else, there are good people everywhere.
In Ohio, USA, someone called the police on a group of Black kids that were playing football in the street, however, they did something very different when they arrived.
On June 20, 2020, a bunch of kids was playing street football when someone called the cops to file a complaint against them.
But when the police arrived, the responding officers just joined in on the fun.
Wendy Brown, a mother to a few of the children playing from Shaker Heights, Ohio, caught the entire moment on cam.
Talking about the incident, Brown said:
We encourage them to go outside and just be kids, so they were just playing football out in the street like they do any other time. I don't know the cop's name, but he came to me and said, 'I don't know who would do it, but someone called police on the kids, they said they were playing in the street so we came by'.
The police officer that was responding to the call talked with the mother saying that when he was a kid, he used to play in the streets too.
This incident just shows that racism is present, however, there are good people that are risking their lives to be on the right side.
Such a classy act by the police officers, you guys deserve a medal for the simple and kind act that you did.