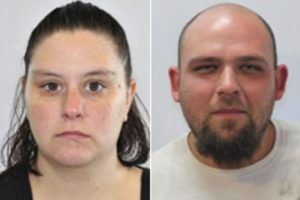 Parents Of 7-Year-Old Boy Arrested For Placing Burning Cigarettes On His Face, Tying Him Up, And Punching His Chest
A 26-year-old mother from Ohio, USA, was arrested for tying up her son and placing cigarettes on his face.
Officers are currently saying that this is one of the worst child abuse cases that they have seen.
26-year-old Tosha Martin-Henning tortured her 7-year-old boy, which left him covered in burns, cuts, and even bruises.
Martin-Henning, who is from Mansfield, Ohio, was arrested by the police on April 26, 2020.
Joshua Henning, her 30-year-old husband, was arrested by the police on the same day.
Lola Martin, the mother of Tosha, called the police after seeing the horrific injuries on the body of the young boy.
Lola told the police that when she picked up her grandson, she saw visible bruising to his body, had burns on his face, and even had cuts to his wrist.
It is said that the mother of the 7-year-old boy admitted that she grabbed him by the wrists frequently.
Lola brought her grandson to the Ohio Health Hospital in Reynoldsburg, where doctors transferred him to Nationwide Children's Hospital, which is in Columbus, Ohio, due to the severity of his injuries.
Andrew Jacques, an emergency care physician, said that this was definitely a child abuse case.
Staci Shaw, a social worker, reported that the young boy had a ruptured left eardrum, a hematoma, cigarette burns on his face, bruising on his entire body, and deep cuts on his wrist.
The boy also told the police that his mother had tied him up so his father could punch him in the chest.
Captain Shari Robertson of the Mansfield Police Department, said that this is one of the worst abuse cases they have seen.
Martin-Henning and Henning both face charges of felonious assault.
The 7-year-old boy is currently at a hospital, where he is being treated for his injuries.
Tan investigation is ongoing, said the police.