Suspected Coronavirus Patients Are Being Dragged Out From Their Houses In China
Videos that are viral on social media right now are showing suspected coronavirus patients being dragged out of their houses in China.
In a video that was shared by a social media user in China, officials in Hazmat (Hazardous Material) suits can be seen removing people out of their homes.
The people that are being removed are suspected of having the coronavirus.
One clip that was shared shows a man wearing only a pair of jeans, lying down on the ground while men in white hazmat suits surrounded him.
The officials tried to pick him up off the floor and drag him away.
According to reports, the incident was filmed in Kunshan, Jiangsu.
The short video was shared on Twitter by Radio Free Asia with the caption of: "Residents of Kunshan, Jiangsu refused to be quarantined] [Forcibly taken away by staff members] Online circulated clips, a group of personnel wearing protective clothing of 'Kunshan City Governance' went to a household to persuade the residents to prepare for packing to be isolated, but the head of household refused to co-operate."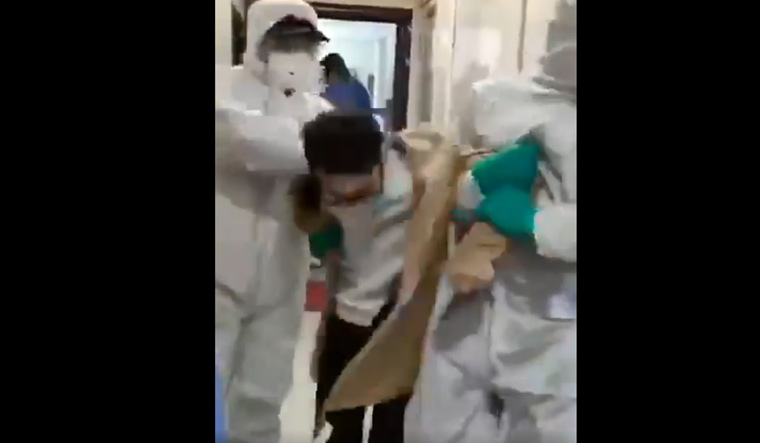 The caption added, "The staff then entered the house and took the residents one by one and sent them to the ambulance. The male head of the household questioned the staff members for breaking the law and fiercely resisted. During this period, the staff members' protective clothing was broken and they tried to hide under the car."
The death toll of the coronavirus in mainland China has now reached 908, most of them are in Wuhan and the surrounding Hubei province.
A total of 40,171 infections have been confirmed nationwide.
Authorities are going door-to-door to check the temperatures and overall health condition of the residents.
Residents that are suspected to have the coronavirus are being brought to quarantine areas, which are being held in large stadiums and exhibition centers.
Li Lanjuan, an expert from the National Health Commission of China, said scientists are very close to developing a vaccine for the virus.
But it won't be that fast.
Lanjuan said a sample vaccine should exist within 1 month, but it will take 2 weeks to be approved and 6 weeks more to be deemed suitable for use by humans.
As part of the efforts to help minimize the casualties of the coronavirus, Bill and Melinda Gates have promised to donate $100 million USD in relief efforts.
The money will be used to stop the spreading of the virus to third world countries in Asia and Africa.