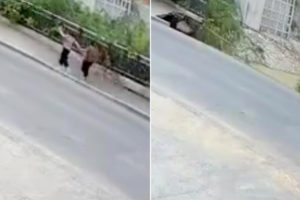 Terrifying Video Shows Moment 2 People Get Swallowed By Sidewalk That Suddenly Collapsed
A terrifying video that was shared on social media shows the moment 2 people get swallowed by a sidewalk in China.
The entire incident was caught on cam, and luckily the 2 people survived.
The incident happened in Southern China.
The man and the woman could be seen walking along the Furong Middle Road, which is located near the Wujiang Second Bridge in Wulong District when the sidewalk gave up.
There was no indication that the sidewalk had any damage or was about to give up.
The pair, a man and a woman, was rescued by a team of firefighters.
They were rushed to a hospital with injuries.
It is reported that the woman sustained injuries to her foot after she was crushed by a stone.
The man was brought to the hospital with a head injury.
The cause of the collapse is currently being investigated by the local authorities.