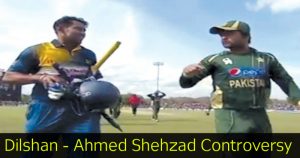 Watch Video: Ahmed Shehzad Asks Dilshan To Change His Religion
We had seen cricketers fighting and sledging their opponents in many situations. But this way of sledging was seen for the first time in cricket history. During the ODI match between Sri Lanka and Pakistan, Ahmed Shehzad was seen sledging Tillakaratne Dilshan in a unique way that no player had done.
Shehzad was unlucky that the words he talked to Dilshan were recorded in a mic and it was also caught on camera. Shehzad was recorded saying:
"If you are non-Muslim and you turn Muslim, no matter whatever you do in your life, straight to heaven".
Dilshan gave a reply but that was not clearly audible; Shehzad went ahead and said:
"Then be ready for the fire."
Watch The Video Here:
Later, Shehzad was summoned by board general manager (media) Agha Akbar at the PCB headquarters in Lahore on Wednesday and asked to explain his state.
Also Watch: Angry Virat And Yuvraj Shows Their Frustration On Bollywood Stars