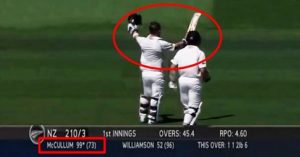 Embarrassing Moment For Brendon McCullum While Celebrating Century vs Sri Lanka
This was an epic moment and embarrassing moment for New Zealand Brendon McCullum. In a test match between New Zealand and Sri Lanka held in Christchurch in December 2014, New Zealand had a good start but lost three wickets one after the other within 24 overs. Hence Kane Williamson and Captain Brendon McCullum had built a healthy partnership facing Sri Lankan bowlers.
https://www.youtube.com/watch?v=xGaq0OyWsrw
Sri Lankan bowlers had no way to stop this partnership and they were rocking. Here comes the epic moment. In 45th over of the New Zealand innings, McCullum was at 93* and still batting with Williamson. Kaushal was the bowler and in the fourth delivery, McCullum hit the ball to six and thinking that he reached 100 mark, he celebrated the moment with Williamson and not knowing that he was still at 99*.
All the audiences in the stadium are surprised seeing McCullum celebrating. After his celebration, he got to know that he was still at 99; he didn't react as it was embarrassing moment which never happened in cricket history. In the very next ball, McCullum had got single but did not celebrate much as before.
Video : South Africa needs 4 runs in 48 balls and India won the match! Watch Here
He was just felt bad and funny that he had done such celebration in last ball. But McCullum smashed that innigns  and scored 195 runs. Thus from now, Batsman should not only concentrate on his runs, but also observe the scoreboard to avoid such funny and epic moments.