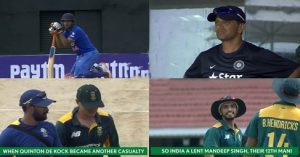 Indian Player Fielding For South Africa Team for the First time
This was one of the rarest incidents seen ever in cricket history. During the match between India 'A' and South Africa 'A' on Sunday, Ten South Africa A players have been hospitalised due to "food poisoning", including four on Sunday during the play. As South Africa A team had no more substitutes in their squad, the Indian side's 12th man Mandeep Singh fielded for the South African side.
As the players of South Africa A team were hospitalised day before the match, they had their video analyst Hendrikus Coertzen fielding for them. South Africa 'A' had four players indisposed with stomach bugs and cramps during the match. Meanwhile Quinton De Cock also felt uncomfortable, thus Mandeep got into the field for South Africa.
https://www.youtube.com/watch?v=CR16kitHmWc
When Quinton de Kock was rushed to a city hospital during the match, Mandeep had come to field in place of De Cock as Mandeep had not made it into the playing XI on the day, with Mayank Agarwal preferred by Coach Rahul Dravid. Mandeep singh had stepped in with South Africa A player Eddie Leie's jersey.
Cricket South Africa also attended a press conference, saying that ten players are currently in the hospital. "With half of the squad going down ill overnight South Africa was forced to play, an ill-balanced starting XI that had only four frontline bowlers with the likes of Dean Elgar and Khaya Zondo to make up the rest of the overs," the CSA said.
The sources said that South Africa 'A' team management requested India A coach Rahul Dravid for a change in schedule as at least six of their players are not fit to take the field against Australia A. Dravid accepted their request and thus India A, instead of playing on Tuesday, had played on Monday against the Aussies.