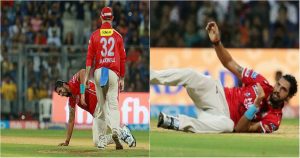 This Hilarious Compilation Of Ishant Sharma Falling Post Bowling Will Leave You In Splits
The Kings XI Punjab's bowler Ishant Sharma, well known for his facial gestures is now in news once again for his awkward falls on the pitch multiple times post the act bowling act. Sharma was always been scrutinized for his bowling, he always gave away runs to the rivals and surprisingly always preserved his place in the team, despite the bad results.
Earlier, Ishant Sharma was widely trolled on the social media platforms for making weird faces on the field. Twitter trolls, memes and what not, there was no room left in making fun out of him. 
Similar Articles: Watch: "Ishant Game Face Challenge" Attempt By Michael Clarke, Brett Lee, Ravi Shastri
After that, this series of falling after bowling has become viral, in addition to this falling, his expressions post the act are even more hilarious. Even Kings XI's head coach Virender Sehwag couldn't resist himself from laughing so hard after watching the falling Ishant on the field, meanwhile, veteran Australian player Matthew Hayden from the commentary box called it "like a newly born giraffe."
Meanwhile, in this process of unbalanced statures, Ishant, unfortunately, dropped in a lot of opportunities where he could have taken at least a couple of wickets with ease.
Watch The Video Here:
Now, this video clearly indicates that Ishant must take enough care of his landing style, or else he might end up losing his impossibly secured seat in Kings XI team.