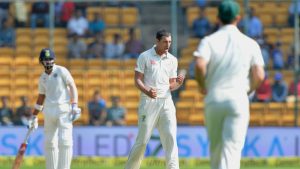 Ishant Sharma Made An Imitation Of Australia's Captain Steve Smith Which Now Turned As A Hilarious Meme on Twitter
Indian pacer Ishant Sharma made an imitation of Australian Captain Steve Smith in the ongoing test match at Bengaluru. After suffering a heavy 333-run defeat in the first Test, India needed to make a strong start in the ongoing second Test against Australia. Failed to score runs, Indian Batsman became a butt of joke on Twitter post 189 all out in first Innings.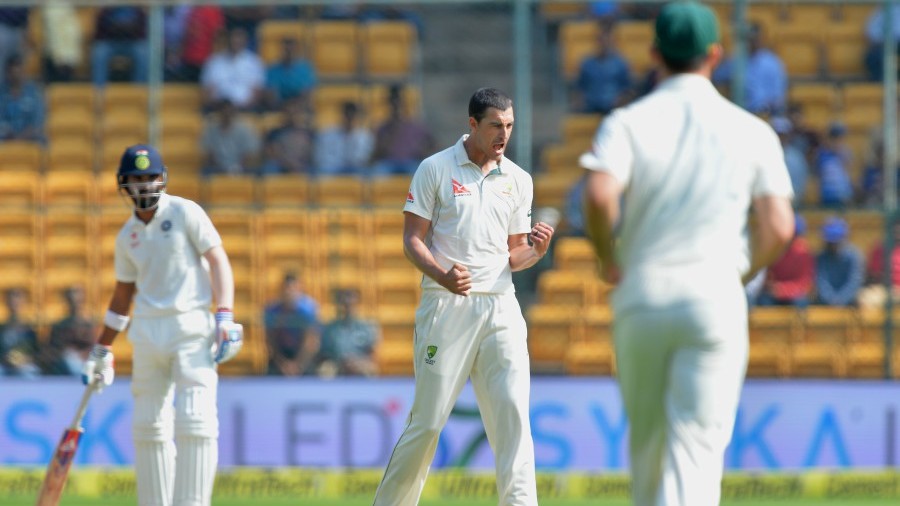 Australia is performing a lot better compared to Indian batsmen in terms of batting. The first session was on heat with only 47 runs scored and two wickets.
The banter was at an all-time high, with captains Virat Kohli and Steve Smith exchanged few words with big grins. The conversation continued as Kohli in the slips made arguments with Smith and Matt Renshaw at the crease.
Ishant Sharma, who didn't have any wicket in his bucket made a funny expression imitating Steve Smith and became a meme on Twitter.
Watch Video here
Watch out for Virat Kohli's reaction!! #INDvAUS #INDvsAUS??

— suresh bishnoi (@suresh_jani29) March 5, 2017
https://twitter.com/cricketchamber/status/838258250814484480?ref_src=twsrc%5Etfw
After watching this reaction from Ishant Sharma, it was included in match point and Here are some of the reactions from Twitter on Ishant Sharma's contortions.
There's plenty happening out there this morning! #INDvAUS pic.twitter.com/KuU1RvXjyS

— cricket.com.au (@CricketAus) March 5, 2017
Sharma ji ka beta gives more expressions than most of Bollywood actors. #Bollywood #INDvsAUS #IndvAus Ishant Sharma pic.twitter.com/Q05xzgsrOa

— Dr. Gill (@ikpsgill1) March 5, 2017
If Monday morning had a face. pic.twitter.com/JByOMS3Ldy

— Trendulkar (@Trendulkar) March 5, 2017
See what you have done to me Ishant Sharma. I am sitting and applying filters to your face.

(Damn, that's scary)#INDvAUS pic.twitter.com/OyKasmmV7p

— Vinayakk (@vinayakkm) March 5, 2017
Ishant Sharma before and after #IPL auction. pic.twitter.com/YiwYslAe0Y

— Nikhil ? (@CricCrazyNIKS) March 5, 2017
Ishant Sharma's Reaction After Sir Ravindra Jadeja Took Steve Smith's Wicket. Feeling Jealous 😉#INDvsAUS #INDvAUS Steven Smith #SirJadeja pic.twitter.com/AET2Pl2agO

— Sir Ravindra Jadeja (@SirJadeja) March 5, 2017
Ishant Sharma Seriously Needs to Stop Watching Game of throne's.. LoL? #INDvsAUS pic.twitter.com/6XrKWoIfSi

— GuLsHaN (@askgulshan) March 5, 2017