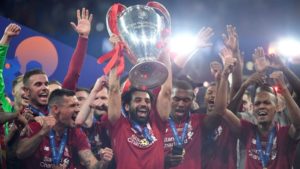 Liverpool beats Spurs 2-0 to claim the UEFA Champions League Trophy
Mohamed Salah scored an early goal to give a lead to Liverpool against Tottenham and the late goal from Divock Origi secured the club's 2-0 win against the Spurs to claim the UEFA Champions League Trophy, which is the biggest prize in Europe's football competitions.
Here are the goals and highlights of Tottenham v Liverpool in the 2019 UEFA Champions League Final:
Mohamed Salah, the Egyptian Striker, did not play last year against Real Madrid in the UEFA Champions League Final 2018 due to a shoulder injury.
But after their win this year, the Egyptian striker said, "Everyone is happy now."
He added, "I am glad to play the second final in a row and play 90 minutes finally. Everyone did his best today, no great individual performances, all the team was unbelievable."
Salah then posted a picture on Twitter with a caption of "Believe, work hard, and it'll happen."
Believe, work hard, and it'll happen. pic.twitter.com/F11eKYgZgK

— Mohamed Salah (@MoSalah) June 2, 2019
Klopp, the manager of the team, finally got to hold the trophy after getting defeated 2 times in the UEFA Champions League Final in 2013 with the Borussia Dortmund and with Liverpool last year.
Klopp said, "I am so happy for the boys all these people, and my family. They suffer for me, they deserve it more than anybody."
The manager added, "Did you ever see a team like this, fighting with no fuel in the tank? And we have a keeper who makes difficult things look easy. It is the best night of our professional lives."
Jurgen Klopp is the 5th manager from Germany who has won the European Cup after Jupp Heynckes, Udo Lattek, Dettmar Cramer, and Ottmar Hitzfeld.
Jurgen Klopp also talked about how intense this season was for them, he said, "It was an intense season with the most beautiful finish I ever could have imagined."
But, the manager is the second German ever to win the cup with a non-German team, Jupp Heynckes won the cup with Real Madrid.
This was also the first ever final in the UEFA Champions League without a single card drawn out at a player.