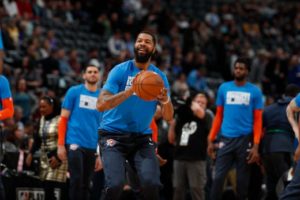 Markieff Morris Signs With The Detroit Pistons
Markieff Morris and the Detroit Pistons have come to an agreement and have signed the veteran forward, sourced told Shams Charania of the Athtletic's
Free agent Markieff Morris has agreed to a deal with the Detroit Pistons, league sources tell @TheAthleticNBA @Stadium.

— Shams Charania (@ShamsCharania) July 3, 2019
Morris averaged 13.4 points, 6 rebounds, 1.9 assists, and 1 steal per game throughout 2013 to 2018, but, the forward only averaged 9.4 points and 4.6 rebounds per game due to neck and back issues in the previous season.
Morris was waived by the Washington Wizards in February and was signed by the Oklahoma City Thunder.
Marcus Morris, his twin brother, played for the Detroit Pistons for two seasons.
The Detroit Pistons have also signed former league MVP Derrick Rose, who averaged 18 points, 2.7 rebounds, 4 assists, in 27.3 minutes per game in the 2018-2019 season.