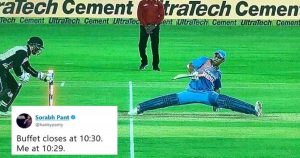 LOL! MS Dhoni's Unusual Split Stint Has Become The Feast Of Memes For The Twitterati
The previous night's T20 International between New Zealand and India is full of wonders and lessons. IWe have noticed Kiwis dominating India pretty easily, though men in blue did their best to bait the mammoth total. The rivals were quite hard to be broken apart.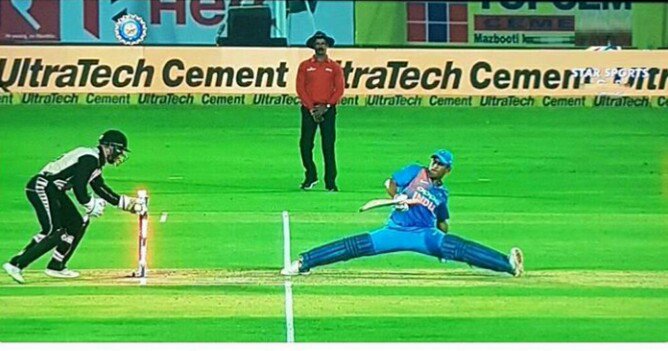 On the other hands, there were moments when fans were left speechless by the Indian players. Be it Virat Kholi's efforts or MS Dhoni's spectacular split to save his wicket. We all have seen MS Dhoni doing marvel behind the stumps in a blink of an eye and on Saturday he definitely did a mind-boggling acrobatic move in front of it, making sure he was safe. And now, people can't have enough of the split and turning it into a meme that has flooded Twitter.
While there are people who criticised the performance of the former captain, there's this humor on Twitter that must be seen. Check out the funniest tweets below:
Dhonicopter. pic.twitter.com/P3nM9Po76K

— Godman Chikna (@Madan_Chikna) November 4, 2017
Phool Aur Kaante – 2 pic.twitter.com/X4UaHcwfZD

— PhD in Bakchodi (@Atheist_Krishna) November 4, 2017
Don't even try to stump him out student, he is the PRINCIPAL of that School 😂😂#DHONI #IndvsNzt20 pic.twitter.com/Qh8WrC8zU7

— Ankit Agarwal (@Tweet_Ankit10) November 4, 2017
https://twitter.com/sinpulsive/status/926852958796513280
https://twitter.com/naveenarendran/status/926851339837087749
Who did it better??
Retweet for Dhoni
Like for Ajay Devgan#INDvNZT20 pic.twitter.com/Q2cJT38O1H

— Nisha (@niissh) November 4, 2017
I've some real cool hangers in my closet.. pic.twitter.com/7tCK7nQLDb

— The Skin Doctor 🚩 (@theskindoctor13) November 4, 2017
When you are playing cricket and someone tells you its yoga day 😂#MSDhoni #INDvNZ pic.twitter.com/SiWkZ9xRGb

— TestUser (@tweetKohlic) November 4, 2017
#harAadmiDhoni pic.twitter.com/witjtB8yGB

— Sed lyf ☺ (@Nekvinder) November 4, 2017
Buffet closes at 10:30.
Me at 10:29. pic.twitter.com/2IOMilFXNX

— Sorabh Pant (@hankypanty) November 5, 2017
Baba Ramdev Invented a new YOGA which is did by Dhoni in today's Match. #INDvNZ pic.twitter.com/SrkaucDwZO

— આળસુનો પીર 😪😪 (@A_P_4720) November 4, 2017
Sales managers trying to achieve their target. pic.twitter.com/BIoCQpSUVW

— Yash R Shah (@ShahYashR) November 4, 2017
Related Article: "It's Time For MS Dhoni To Give Youngsters A Chance In T20", Says VVS Laxman, Read What Ajit Agarkar & Akash Chopra Said!