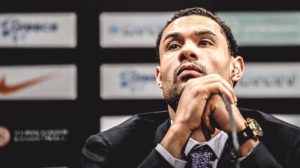 New Orleans Pelicans Hire Trajan Langdon As Their New General Manager
NBA: The New Orleans Pelicans have hired Trajan Langdon as their new General Manager, Langdon was the assistant general manager for the Brooklyn Nets before getting hired by the Pelicans.
The hire was announced by the Pelicans on Sunday.
Langdon is set to replace Dell Demps, Demps was fired during the trade rumors of Anthony Davis in the previous season.
Langdon will be working alongside David Griffin, the executive vice president of basketball operations.
David Griffin released a statement about the new hire, he said, "Trajan is a tremendous talent and shares in our vision of what it means to be a part of the Pelican family, on and off the floor."
He added, "We are excited to add he and his family to our leadership group as we continue building upon that vision."
Langdon, who is now 43-years-old, was named as the G League Executive of the Year in the 2018-2019 season for his work with the Long Island Nets, which is the affiliate team of the Brooklyn Nets.
It was the 3rd season of Langdon to be in charge of the Long Island Nets. The team lost to the Rio Grande Valley Vipers, which is the affiliate team of the Houston Rockets in the G-League, in the G-League finals.
Trajan Langdon was hired by the Nets in 2016, he was one of the first hires of Sean Marks, the General Manager of the Nets.
Trajan Langdon was once the director of player administration and basketball operations for the Cleveland Cavaliers.
He has also worked as a scout for the San Antonio Spurs, which is a team in the Western Conference.