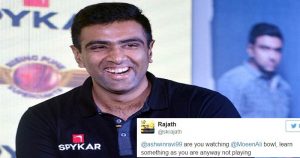 Ravichandran Ashwin Gives Sarcastic Reply To A Fan On Twitter For Comparing Him With Moeen Ali
India's star off-spinner Ravichandran Ashwin has had a perfect year so far. He finished as India's top wicket-taking bowler and was also named the Cricketer of the Year by the International Cricket Council (ICC).
But even after winning two ICC awards – ICC Cricketer of the Year and Test Cricketer of the Year, Ravichandran Ashwin is making news in getting trolled by fans on Twitter.
Ravichandran Ashwin who have been rested for the ongoing T20-series by the BCCI, but his epic witty one-liners on Twitter did not stop. He gave a cracking reply to a fan who tried to poke fun at his bowling recently.
Yes, replying to a follower, who asked him to learn from Moeen Ali's fantastic spell, Ashwin retorted to him with a fitting and sarcastic response.
In the second T20 International match between India and England, Moeen Ali did well to keep Indian batters in check. He gave a brilliant performance with an excellent spell of 20 runs /4 overs, and also took Yuvraj Singh's wicket.
Taking this as a point, a twitter user tried to mock Ashwin to learn from Moeen Ali's fantastic spell.
@ashwinravi99 are you watching @MoeenAli bowl, learn something as you are anyway not playing

— Rajath (@skrajath) January 29, 2017
While he is someone who can throw a carrom ball with one hand and can spin a googly with the other one. In such a situation, no one would want to be at the receiving end, but this guy dared to do that.
Ashwin, who was rested by the Board keeping an eye on the busy international calendar, replied with his usual witty way.
Here is how he trolled him back:
I tuned in after he finished his spell on purpose.

— Ashwin Ravichandran (@ashwinravi99) January 29, 2017
The spinner replied: "@skrajath I tuned in after he finished his spell on purpose."
It seemed that the user has understood what message Ashwin was trying to convey and decided to end and settled down at peace.
Clearly, trying to troll Ashwin on Twitter is not a good idea! The spinner is proving to be the king of social media.