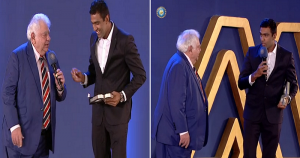 Watch: Ravichandran Ashwin Wittiest Reply To Farokh Engineer In BCCI Awards Ceremony
Spin ace Ravichandran Ashwin's sense of humor is unmatched and he won a lot of hearts with a moving speech in which he even made up for a faux pas by former India keeper Farokh Engineer. Indian spin ace and the No.1 bowler in the world Ravichandran Ashwin was at his wittiest best during the BCCI Awards 2017.
Just when Ashwin had finished his acceptance speech at the BCCI Awards 2017, Engineer asked him, "What's there in Karnataka water that produces great spinners like Chandra (BS Chadrasekhar), Prasanna and you?" The reply from Ashwin won hearts.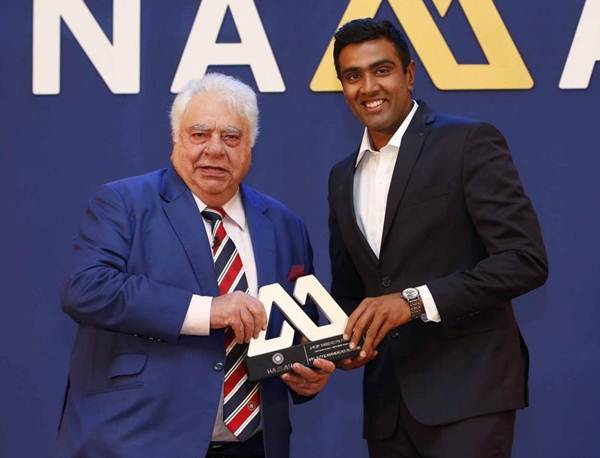 At his wittiest best, Ashwin, who comes from Tamil Nadu, brought the house down. "Not to bring politics in it but we had some Cauvery water recently in Tamil Nadu! I think it should be that," Ashwin not only covered it nicely but had everyone bursting out in laughter.
He also termed Engineer's speech as the most romantic he's ever heard.
"I have been fortunate enough to be a part of five MAK Pataudi Lectures. We have had Rahul Dravid, VVS Laxman and our coach Anil Kumble give speeches but none as romantic as the one Mr. Engineer delivered today. It's so romantic that it's hissing around this stage. I think every Indian cricketer should learn about Indian cricket. Thank you for entertaining us," Ashwin said.
Speaking about the India's former spin duo of Bishen Singh Bedi and Erapalli Prasanna Ashwin said: "I just heard numbers (wickets) of Mr. Bedi and Mr. Prasanna and I will have to add my gully cricket wickets if I have to get near them! They are insane numbers. I don't think I will ever be able to get near them. Stories of Mr. Prasanna, getting a rope to dip the ball to batsman are part of Indian cricket's folklore and I am happy to carry forward the tradition."
On being conferred with the Dilip Sardesai award for his best performance against the West Indies, Ashwin spoke about what captain Virat Kohli had told him once.
"Virat said one thing before 'if this team can achieve something special, we can create great memories'. We prepared a charter here. When we embarked on our journey, everyone was happy, we created more memories than playing great cricket there. My love affair with West Indies, I just think, sometimes when you know you have done well against a team, the edges also don't carry to the fielder." he concluded.
Watch The Video Here:
R Ashwin receives the Dilip Sardesai Award https://t.co/nlYAltjzHS #BCCI #FarokhEngineer #BCCIawards

— DC Sports (@_DCSports) March 9, 2017
Meanwhile, Virat Kohli, who was presented with the Polly Umrigar award, said that he was happy to be amongst the top players.
Clean Bowled: