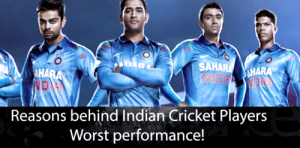 Shocking Reasons behind Team India's Worst Performance Against Bangladesh
Indian cricket team is ranked #2 in ODI cricket team whereas Bangladesh is ranked #7. But as we all have seen India has lost its first two matches in a series against Bangladesh and also lost the series. No doubt that Bangladesh players have performed well but Bangladesh team comes no where competitive to Indian team if we look at the past track records. After investigating a little we have found few interesting things that left team India behind. Our players have performed extremely well in IPL T20 matches but why did they fail in the hands of Bangla new bowlers. Lets look a little deep into it.
Reasons behind Team India Loss:
1. Lack of Rest to the Players:
As we know team India has been constantly playing different formats of cricket past 6 months without rest. ICC world cup followed by T20 and then now this series. There is no enough rest to the players. Accurately speaking there is not even a gap of 20 days between two tournaments.
2. BCCI running behind money:
BCCI should first take care of its players then run behind money. No doubt we are the richest cricket board in the world. Even though BCCI has been constantly testing its players without giving proper rest and time for practice.
3. Being Over Confident over Bangladesh
As we all know the team India were super confident while going to Bangladesh but things didn't happen the way we expected. Bangladesh has been growing strong progressively in the past few years. Their performance in world cup was also remarkable. Underestimating Bangla players and being over confident definitely played a major role in our loss against bangladesh.
4. Differences among the Players in Dressing Room
Recently, MS Dhoni's ex-coach has stated that after the first match MS has told him that there was a lack of support and co-operation between him and the senior players in the dressing room. The team atmosphere has changed alot from the past few months, which could be seen in the body language of the players on field as well. Read more about how the Indian dressing room is divided.
5. Lack of Proper All Rounder in the Squad
There has been a lot of criticism on the selection of Ravindra Jadeja and his poor performance from few months in ODI cricket. Many questions has been raised over why MS Dhoni still sticks on to choose him in the team playing eleven despite having other players like Yuvi and Irfan pathan who were performing better in domestic cricket when compared to the so called perfect all rounder "SIR" Ravindra Jadeja.
6. IPL Mania:
After T20 format came into picture, almost all the players got habituated to T20 format and not able to perform well in other different formats.
7. Break Down of the Top Order
The top order consisting of big names like Rohit Sharma, Dhawan and Kohli couldn't live up to the expectations they had. They looked confused and couldn't convert their starts into bigger scores which left a lot for the middle order to perform. The pressure on them increased with this and sustenance was a major issue.