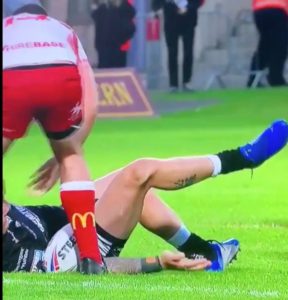 Watch: Rugby League Player Joe Westerman Dislocates His Knee During Game And Slaps It Back Into Its Place
What worse could you think off when you see that you have dislocated your knee? The worst case scenario is that you could just lay die and procrastinate about it.
But that is not what Joe Westerman, a Rugby League Player, did when he dislocated his right knee during a match. The lad was seen slapping its knee back into its right place and kept playing until the match ended.
Here is the video of Joe slapping his knee back to its right place:
Recap! In the 77th minute, Joe Westerman dislocated his kneecap in a tackle

What he does next, wow 👀

He then played on #SLHKRHul pic.twitter.com/i8AH2ZI2W8

— Betfred Super League (@SuperLeague) June 27, 2019
Joe just proved that Rugby Players are really tough when it comes to playing with their whole heart.
The incident happened when Hull FC was playing against the Hull Kingston Rovers in the Betfred Super League yesterday.
Joe Westerman of the Hull FC went into contact with the defense of the Rovers and when the whistle blew, he saw that he had dislocated his knee, and instead of just lying down and scream about it, the man was seen slapping his dislocated knee to its original place.
Take a look at how worse his injury is.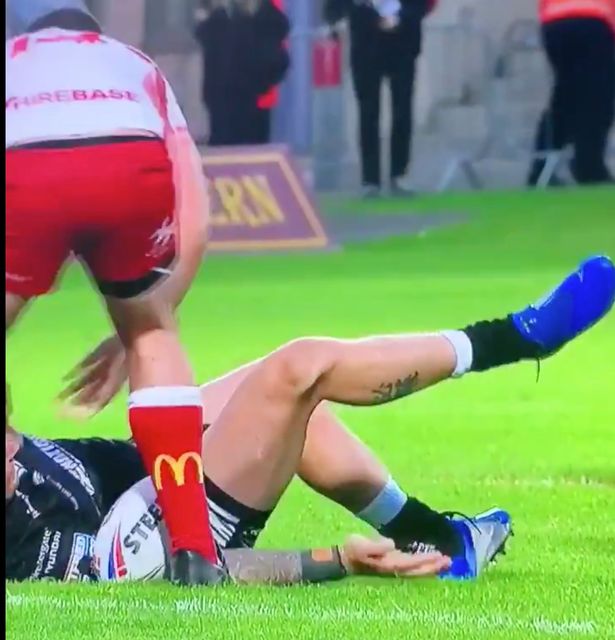 Westerman knew that no one was available for his substitutions as they were underhanded during the match. So instead of just walking it off, the lad slapped his knee back to its place and played the entire game.
The rival team players could be seen comforting him but the lad was really busy slapping his knee…
Unfortunately, the efforts of Joe Westerman were not enough to bring home the W for their team. They lost 18-10 to their city rivals.
During an interview with Lee Radford, the head coach of the team, he said, "He does that every fortnight. It has genuinely come out on numerous occasions – he needs some ligaments in there somewhere. It's a gladiator sport and we had no interchanges left so he stayed out there."
Here is what other players thought about what Joe did.
The hardest thing I've ever seen 😬@joewesty13787 pic.twitter.com/gtxy0rs0KR

— Joe Burgess (@JoeBurgess1) June 27, 2019
Attention footballers: Joe Westerman just put his knee back in himself then played on 😶 https://t.co/1NbhXv1uMC

— LoftforWords (@LoftforWords) June 27, 2019
Listen you might be Mike Tyson hard but you will never be Joe Westerman hard oh my God 🤣🤮

— Thomas Minns (@Minnsie1) June 27, 2019
This is not what you should do when you dislocate your knee, it is advised that you seek the help of an expert.