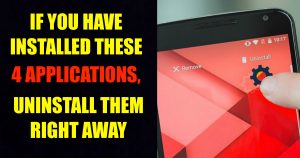 Beware!!! These Four Popular Apps Controlled By Pakistani Agencies Are Stealing Your Sensitive Data
The Home Ministry on Tuesday issued an alert stating that Pakistani agencies are snooping on Indians by sending malware through some phone apps. According to the Home Ministry, Pakistani agencies are infecting mobile phones in India with malware's through these apps to steal sensitive information and for espionage purposes.
Reportedly, Pakistani agencies have circulated these apps to steal crucial information available in the smartphone.  These hackers are in the look of any detail that has ever been entered or saved in the smartphone, including the mobile payment detail which is commonly used during the ongoing demonetisation effects.
The ministry has asked mobile users to immediately delete four apps, Top Gun (game app), Mpjunkie (music app), Bdjunkie (video app) and Talking Frog (entertainment app) from their smartphones to prevent cyber fraud.
The government said that there's a high chance of cyber fraud happening if they have these four smartphone apps. A similar incident was reported earlier this year where an app called SmeshApp was removed by Google from its official Play Store. The government had accused the app of spying on Indian Army.
It was widely reported that Pakistan army's Inter-Service Intelligence (ISI) had covertly used an app called SmeshApp to track the movement of Indian Army and conduct counter-terrorism operations during the deadly terrorist attack on Indian Air Force (IAF) at the Pathankot base.
After the demonetization move, the usage of credit and debit cards is rising, and e-wallet companies like Paytm and Freecharge are widely used for daily transactions. So be careful before installing apps on your smartphone from unverified sources and exercise caution during installation of new applications.
Also Watch: Pakistani Anchor 'Threatening' PM Modi On TV