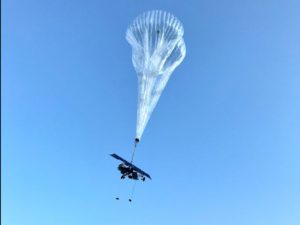 Giant Floating Balloons By Google Will Bring Internet Access To Remote Parts Of Kenya
Some of the most remote parts of Kenya will be getting proper internet and access to the outside world thanks to a fleet of giant balloons that will be deployed by Google, a tech giant.
The Loon Project, which is being handled by Google, will be using large airborne balloons that are in constant motion to broadcast mobile internet will be over Kenya.
They are capable of giving download speeds of up to 18.9 Mbps.
Google is doing this to help develop parts in Kenya that are still hard to reach.
72 percent of people in Africa live without the internet.
Google wants to close that gap and cut huge numbers with affordable 4G LTE connectivity, which is capable of being given by the floating balloons.
Earlier this year, Google's Loon Balloons were deployed in Africa.
Remote parts of Sri Lanka and even Puerto Rico have gotten the same Loon Balloons too so residents could get a proper internet connection.
Alistair Westgarth, the Chief Executive Officer of Loon Inc., released a statement about the incident and said:
In light of the spread of COVID-19, Telkom and Loon are working as fast as we can to realize service deployment. This will also enable us support the Kenyan Government's efforts to manage the current crisis in the short-term, and to establish sustainable operations to serve communities in Kenya in the long-term.
The initiative in Kenya is in partnership with Telkom Kenya.
Around 35 Loon Balloons will be launched into the stratosphere so Iten, Eldoret, Baringo, Nakuru, Kakamega, Kisumu, Kisii, Bomet, Kericho, and Narok—a total of 19,300 square miles, can get access to affordable 4G LTE internet.
Mugo Kibati, the CEO (Chief Executive Officer) of Telkom Kenya, said that this is such an amazing thing for the internet service provision in Africa.
The balloons will launch on their journey from locations in the United States of America (USA) and will navigate their way to the country of Kenya with the help of natural wind currents.
Another great thing about the Loon Balloons is that they are solar-powered.
This means that they will play a huge role in reduced carbon emissions and increased hours of operation.
Kenyans can use the internet and expect coverage from around 6:00 am to 9:00 pm every single day.