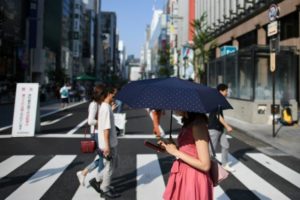 New Bill In Japan To Place Ban On Looking At Your Phone While Walking
A city in Japan has proposed a bill to make it look at your smartphone while walking illegal.
Councilors in Yamato, City, which is located in the Kanagawa Prefecture, are set to vote on new legislation that would ban staring at a device while walking.
Research that was carried out in the city recorded that around 6000 people walking near 2 train stations with 12 percent of them found to be using their smartphones while doing such a thing.
Politicians claim that there has also been an increase in the number of accidents that involve humans that are starting at their smartphones as they walk.
If the vote is passed this month, Yamato will be the first city in Japan to introduce on the ban.
The changes would come into place on July 1, 2020.
Masaki Yasumi, an official from the city, said:

The number of people using smartphones has rapidly increased and so have the number of accidents. We want to prevent that.
However, Yasumi said that there will not be any punishment for those that are found to be using their phones while walking through the city streets.
He explained:
We hope the ban will raise more awareness about the dangers.
This comes after a study carried out by researchers at the University of Calgary in Canada found out that phone-related injuries were rising.
Dr. Sarah Simmons, a lead author of the study that was published in the journal BMJ Injury Prevention, said:
Given the ubiquity of smartphones, social media, apps, digital video and streaming music, which has infiltrated most aspects of daily life, distracted walking and street crossing will be a road safety issue for the foreseeable future.
If this is law is bizarre, wait for some more.
Earlier this year, it was reported that visitors to the theme parks in Japan are to be advised not to scream as they sit on roller coaster rides due to the new health and safety guidelines brought by the novel coronavirus pandemic.