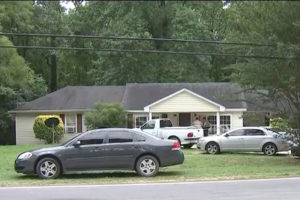 3-Week-Old Infant In Georgia Dies After Pet Dog Bites Her Head
Georgia, USA: A 3-week-old baby girl passed away after it was bitten on the head by their pet family dog.
According to the police, Ruth Flores, the 3-week-old baby, was bitten in her head by the dog when she was resting in her bedroom.
The Hall County Fire Services responded to the call.
The infant was rushed to the Northeast Georgia Medical Center,  but she passed away shortly afterward.
The firefighters responded to an emergency phone call that reported that a dog had bitten baby Ruth Flores.
According to Chris Dale, the Hall County Sheriff's Office 1st Lt., "The incident occurred inside the home, in a bedroom where the infant was resting, according to initial information gathered by deputies on the scene."
The dog that bit baby Ruth is a husky mix and was owned by the family of Ruth.
Lt. Dale added, "Hall County Animal Control and Enforcement also responded and took custody of the dog, which belonged to the family at the residence."
According to the AJC, the dog is now in the custody of the Hall County Animal Control.
No charges have been filed so far.
The identity of the child has not been released.