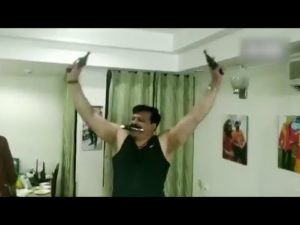 Caught On Cam: Suspended BJP Lawmaker Seen Dancing With Rifle And Pistols At House Party
Kunwar Pranav Singh, a suspended lawmaker of the Bharatiya Janata Party, was seen partying with some people and was also seen waving his guns.
The video has been viral and has been criticized by a number of people.
Singh was seen dancing in what it looks like his living room and was also seen waving his guns while he danced. Two men, who are not known, were also seen dancing with the suspended lawmaker.
The Bharatiya Janata Party has condemned the act of the lawmaker and has promised to take action against him.
Anil Baluni, the Bharatiya Janata Party's national media in-charge, said, "I've seen that video. I condemn it. These kinds of complaints came against Pranav Singh 'Champion' earlier as well, that's why he was suspended for three months. We'll talk to the Uttarakhand unit about it. Strict action will be taken."
The short clip shows Singh taking a sip of a drink while he holds two pistols and a rifle at his other hand.
Earlier this year, Singh was suspended by the party after he misbehaved with journalists. Singh was suspended for three months.
The police are also trying to verify if the guns that were seen in the video were licensed or not.
Singh is a lawmaker from Laksar, Haridwar.