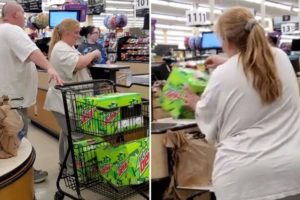 Couple "Lost Their Minds" After Store Stopped Them From Buying 552 Cans Of Mountain Drew Amidst Coronavirus Outbreak
A couple, who turned out to be soda addicts, reportedly lost their minds after a store in Kentucky barred them from buying an eye-whopping 552 cans of Mountain Dew amidst the coronavirus outbreak.
The incident reportedly happened at Louisville, Kentucky.
A video was taken by an anonymous movie maker, who sad store workers refused to sell the hoarders more cases of the drink because of the coronavirus restrictions.
In the video, the angry couple could be seen at the counter with 2 carts that were full of Mountain Drew cans.
The filmer said, "Folks losing their minds up here for some Mountain Dew."
While sharing the video, the filmer said, "They told the cashier they had 23 total cases of Mountain Dew, six in the first cart and 17 in the second cart. The cashier informed them that they have a limit of three that they can purchase due to COVID-19."
The filmer added, "At this point, the employees moved the large cart out of the way. [The male customer] asked for the manager. The manager came up."
The filmer continued, "She said they could only get three. He informed her that he was going to proceed to buy three, then take them out and come back in repeatedly until they had all the cases they wanted. She told them they couldn't do that. At this point, I started recording."
In the video, the man, who is the partner of the woman, can be seen exploding at the member of the staff.
He also called her a liar.
During his rage, the man said, "I'm telling you, you are such a liar, you just told me just now that I could go outside and come back in and get more drinks, that's what you just said. Wow, you are so rude."
Later in the video, the man and his female companion can be seen unloading a number of Mountain Dew Cases.
The couple threw the cases on the checkout counter in a rage.
The news comes amidst the coronavirus outbreak, which has infected 382,366 all over the world.
The novel coronavirus has killed 16,568 people all over the world.
In the United States alone 46,145 people have been infected by the disease and have killed 582 people.