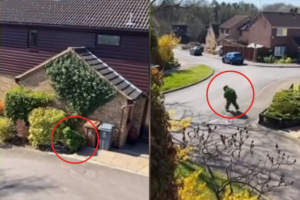 Couple Spot Neighbor Escaping Lockdown By Dressing As A Bush
Most of us are having a hard time staying inside our houses, considering the fact that we have run out of things to do.
As most of us are in lockdown, people all over the world are coming up with unique things and ideas to do so they could make the time pass by faster.
However, some people are coming up with sneaky ideas to escape the lockdown.
A couple in Stevenage, Hertfordshire, were surprised to clock their neighbor escaping the house during the lockdown.
The neighbor that they caught was dressed as a bush.
Yes, you read that right, a bush.
Nicholas Murray and Madeline Mai-Davies noticed that self-isolation measures may have got the better of one of their neighbors, who looks like they had to break the rules.
Their neighbor was dressed head to toe as a bush as they snuck out.
In the video, Madeline can be heard saying: "Reached new extremes of how to get out!"
In the video, a person dressed as a bush can be seen crouching down and scurried along to a nearby bush, stopping for a moment before continuing along the drive and rushing across the road.
For those that are wondering, the entire ordeal was just a prank.
Nick, the partner of Madeline, said, "Looking back, I didn't expect the video to go that viral and get 16.5 million views. Whilst in this difficult time we want to bring smiles, laughs and hope."
Madeline added, "I was overwhelmed with the support and following that came from it."
Believe it or not, memes during the pandemic are pretty hilarious.