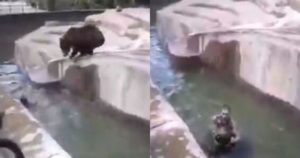 Drunk Man Breaks Into Zoo Enclosure, Grabs Bear By Head And Dunks It In The Water
A 23-year-old man had to be rescued by the authorities after he got inside a bear enclosure and wrestled a bear at a zoo.
The drunken man jumped into a bear enclosure and tried to drown the beast at a zoo in Poland.
Footage that was taken by visitors at the Warsaw Zoo showed a 23-year-old man seen inside the enclosure as a black bear approached him.
The man, whose identity was not shared with the public, jumped into the water to evade the advances of the animal.
The bear followed him as he tried to swim away and the animal was seen jumping into the water after seeing the man.
If that was not scary for you, wait for some more.
The thug grabbed the head of the bear and tried to dunk it under the water.
The man also held the bear in a neck lock.
According to local media, the man was in an intoxicated state when the incident happened.
The unnamed man was brought to a police station by firefighters who rushed at the zoo after the incident was reported to them.
The man was lucky that the bear that he got in wrestling with was rescued from a circus.
The female bear was used to being in contact with humans.
Anna Karczewska, a spokeswoman with the Warsaw Zoo, said:
The female bear, named Sabina, was surprised by the man's actions and is now sitting in the water and nervously roaring every now and then. She is under the watchful eye of caring zoo staff.
The spokeswoman of the zoo said that the man was lucky that he did not sustain any injuries as Sabina was the only bear that was in the enclosure when the incident happened.
The zoo will initiate legal procedures against the man for causing emotional distress to the bear.