Heart-Stopping Video Shows Toddler Running Across Ledge Of Apartment Building When Parents Were Taking A Shower
A toddler in Spain was been filmed running across a narrow ledge of an apartment building, which was really high above the ground while their parents were taking a shower.
The heart-stopping video was captured on Saturday from the apartment across the street in Tenerife, the largest of Spain's Canary Islands.
Child climbs out of apartment balcony window 4 floors up and runs along dangerous ledge in Tenerife!

OMG! This toddler managed to climb out of this building window whilst the parents were taking a shower.The incident took place on Saturday at a building in Playa Paraiso, Tenerife. The video was taken by the daughter of a tourist staying at an apartment close to this one. His Daughter took the video whilst he was running over to the building to try and do something and notify security He doesnt want any publicity so we won´t share his name. Report and update provided by journalist Pia Guevara Manosalva

Posted by I Love Tenerife on Monday, 6 January 2020
The unnamed toddler can be seen scurrying across the fourth-story ledge, which had no barrier along its length, from a window to the corner of the building.
After the toddler reached the corner, the small one turned around and went back to the window as the video ended.
A tourist filmed the toddler while she was in her room in Playa Paraiso.
The father of the tourist rushed across the street to alert the security so the kid can be saved.
The tourist said the parents of the toddler were taking a shower at the time.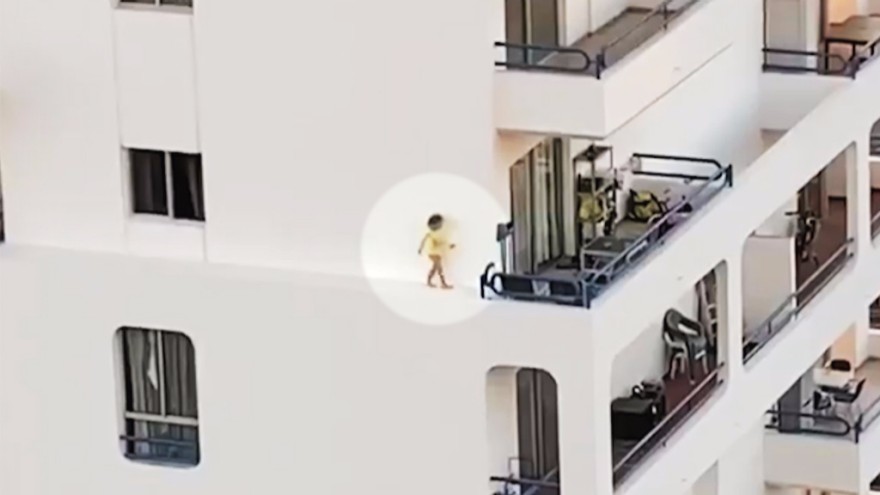 The tourist also confirmed that the toddler in the video was safe.
Both tourists wished to remain anonymous after sharing the video, which racked up over 3 million views.
Social media users criticized the parents of the toddler for not keeping an eye on their toddler.
What do you think about the video? Let us know what you think by leaving a comment below!