Just-Married Turkish Couple Spent Their Wedding Day Feeding 4,000 Syrian Refugees
Instead of over-spending money on decorations, marriage palace's, and more, a newly-married Turkish Couple decided to spend their wedding day feeding Syrian Refugees.
Fethullah Üzümcüoğlu and Esra Polat, the Turkish Couple, got married near the Syrian border, and they decided to celebrate their huge day with refugees who fled the country after the civil war started.
The unique idea to feed the less fortunate came to the incredible mind of Ali Üzümcüoğlu, the father of the groom.
Ali said, "We thought that on such a happy day, we would share the wedding party with our Syrian brothers and sisters. We thought this was best done with Kimse Yok Mu who could provide a truck. God willing, this will lead to others doing the same and giving food to our Syrian brothers and sisters. For us, it was an interesting wedding dinner."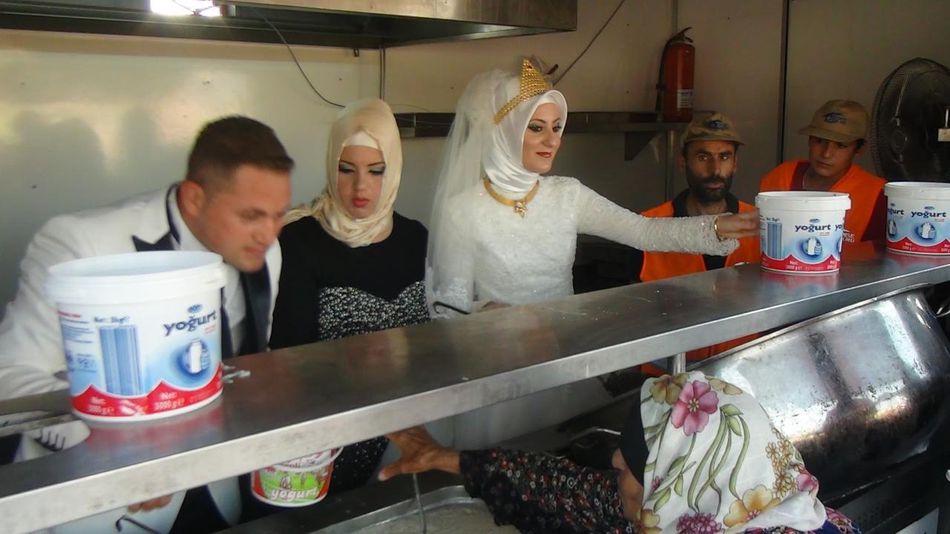 Ali said he was so happy that the newly-wed couple started a new journey together with "such a selfless action."
The refugees were served food through trucks.
Fethullah Üzümcüoğlu and Esra Polat, the Turkish Couple, even-handed the food to the refugees by their own hands.
Esra Polat, the bride, said she was really happy to share the food with people who actually needed it.
During her interview with a local news agency, Esra said, "I was shocked when Fethullah first told me about the idea but afterward I was won over by it. It was such a wonderful experience. I'm happy that we had the opportunity to share our wedding meal with the people who are in real need."
Resit Muhtar, a local singer, also helped out in handing out the food to the Syrian refugees who attended the party.
Fethullah Üzümcüoğlu, the groom, explained how he felt after feeding the refugees.
He said, "Seeing the happiness in the eyes of the Syrian refugee children is just priceless. We started our journey to happiness with making others happy and that's a great feeling."
Fethullah Üzümcüoğlu, the groom, said his close friends were so inspired by their unique celebration that they are now planning to do the same thing on their own weddings.