Pope Francis Caught Liking Bikini Model's Picture On Instagram
Warning, the images below could be unsuitable for young audiences. 
Something's wrong.
Social media users are calling Pope Francis a naughty one after a user spotted him liking a bikini model's picture on social media.
According to reports, the incident happened on Instagram.
Natalia Garibotto, an Instagram Model, was alerted to the like by the pope.
Instead of making a fuss about the incident, the model said that she was amused.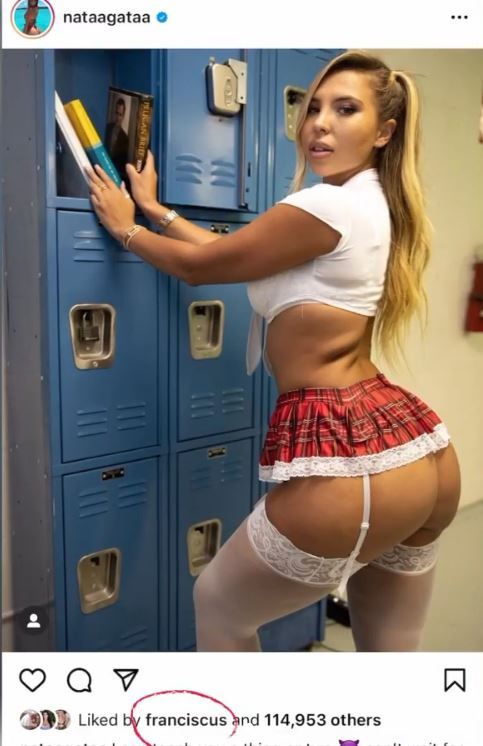 She also said on Twitter that "at least I'm going to heaven".
A screen recording was shared with the public showing that the name of the Pope in the likes section of the picture that she had posted.
At least I'm going to heaven https://t.co/w3nMYWVR6T

— Natalia Garibotto (@NataaGataa) November 13, 2020
It is still unclear if the like that the model got was accidental or not.
In the picture that Natalia posted, she could be seen wearing suspenders along with an outfit that was looking like a naughty student would wear.
To make things more interesting, we got some news for you.
This year, Pope Francis said that good sex and good food are pleasures that come directly from God.
In a book that was published recently, Pope Francis told Carlo Petrini, an Italian writer, that the church has always accepted moral pleasure.
He added: "Pleasure arrives directly from God, it is neither Catholic, nor Christian, nor anything else, it is simply divine."
The comments of the Pope were later withdrawn after the church said that the message was different and people had interpreted it in a wrong way.
What are your thoughts about the Pope liking the picture of an Instagram model? Let us know what you think about it by leaving a comment in the comments section below!