Prankster Who Licked Blue Bell Ice Cream In Walmart Pleads Guilty To Public Mischief And Faces 1 Year In Jail
A 24-year-old Prankster that was filmed licking a Blue Bell Ice Cream on sale in Walmart before returning it to the ice-cream shelf has pleaded to public mischief and is facing 1 year in prison.
24-year-old D'Adrien Anderson admitted earlier this week that he did the horrible act.
Last year, Anderson shared a 20-second social media video of himself of licking ice cream in a carton in Texas before returning it to a supermarket freezer.
Surveillance footage of the shop showed Anderson buying the ice cream tub, but Walmart had to take action.
As a precautionary measure, Walmart had to throw out all of their Blue Bell Ice Cream.
Anderson could now face up to a year in jail and a $4000 fine.
Anderson pleaded for leniency, he asked the judge to give him a probation sentence.
The incident happened in August last year at a Walmart in Port Arthur, Texas, which is located 85 miles away from Houston.
Authorities said the CCTV footage of Walmart shows Anderson taking the Blue Bell Ice Cream out of the freezer and buy it.
That part of the incident was not shared in the video that he posted on social media.
Anderson, who is also known as Dapper Don and Realarrogant, uploaded the video on Facebook and Instagram.
The video went viral and gathered 125,000 views in a couple of houses.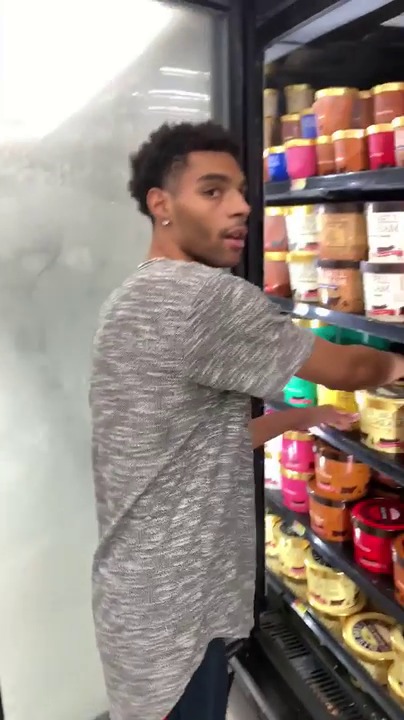 After the video went viral, Anderson joked about the horrible act that he did.
On August 21, 2019, Anderson said, "I love your ice cream #bluebell plz [sic] don't ban me from buying it #im#sorry [sic]."
Bob Wortham, the Jefferson County District Attorney, talked about the video when it went viral.
Bob said, "This guy loves publicity even if it's for the wrong reason. That can lead to bigger and worse things. If we're going to save this guy, we have to do it with this case or he's over the hill."
The staff at Walmart had to throw away all the Blue Bell Ice Cream after the horrible stunt of the prankster.