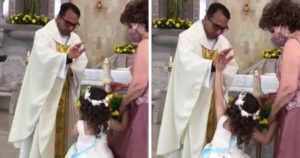 Priest Raises Hand Over Kid To Bless Her, She Gives Him A High-Five
Kids are hilarious and the best thing about them is that they are very unpredictable, and to prove this claim, we bring you a viral video.
The video that we are talking about is so hilarious that you might end up rolling on the floor.
In the video below, a priest could be seen giving his blessing to a small kid and when he raised his hand, the act of the kid is just hilarious.
Father is saying a blessing.

The innocence of a child.

They're trying not to laugh.

Best thing you'll see today… pic.twitter.com/8ueI8JLhnf

— Rex Chapman🏇🏼 (@RexChapman) October 21, 2020
In order to bless the girl, the priest raised his hand and instead of just praying to the man up above, the kid ended up raising her hand and giving the priest a high-five.
Don't worry kid, we wanted to do the same thing when we were kids.
As a result of her actions, laughter could be heard and the priest was having a hard time controlling his laughter too.
Kids are just pure hearted and sometimes they end up doing things that would help us brighten our days instead of making us mad.
Here are some of the hilarious comments that were left in the comments section of the video:
I urinated on the priest when I was being baptized.

— Doc (@DocsLocks) October 21, 2020
Never leave a priest hangin..

Sup' padre… pic.twitter.com/Xlpk8bIQAo

— Danny Hughes (@dthmath) October 21, 2020
As my son, who was six at the time, was getting baptized in the Lutheran church, he shouted out, "That's just plain water!" He's now an assistant professor at Harvard!

— Cindy Gahn (@GahnCindy) October 21, 2020
What are your thoughts about the video that we just shared above? Let us know what you think by leaving a comment below!
Make sure to share this story with your friends so you can brighten up their days too!