Russian Man Found Inside A Bear's Cave "Looking Like A Mummy" After Spending One Month Inside It After The Predator Broke His Spine
WARNING! GRAPHIC IMAGES PRESENT IN THE ARTICLE! WATCH ON YOUR OWN RISK!!
 Alexander, a Russian man, was found inside a bear's cave by hunting dogs in Tuva, a remote region in Russia that is close to the border of Mongolia, and was looking like a "mummy".
Officials said that the spinal cord of Alexander was broken by a bear that saved him so it could eat him later.
When the hunting dogs came across the cave they refused to move on, which made the hunters explore the deep cave where they saw a body.
At first, the hunters thought that they saw a mummified body, but after some time, they realized that the "mummified" man was alive.
The images show the injuries of Alexander and how his body and face started to decompose.
Officials said that he was lying in the same position for almost 1 month.
When Alexander was found by the hunters, he had open wounds, blood, and dirty all over him and had grey skin, which had started to decay.
When Alexander was brought to a hospital, he spoke with the staff in Russian and he explained what happened to him.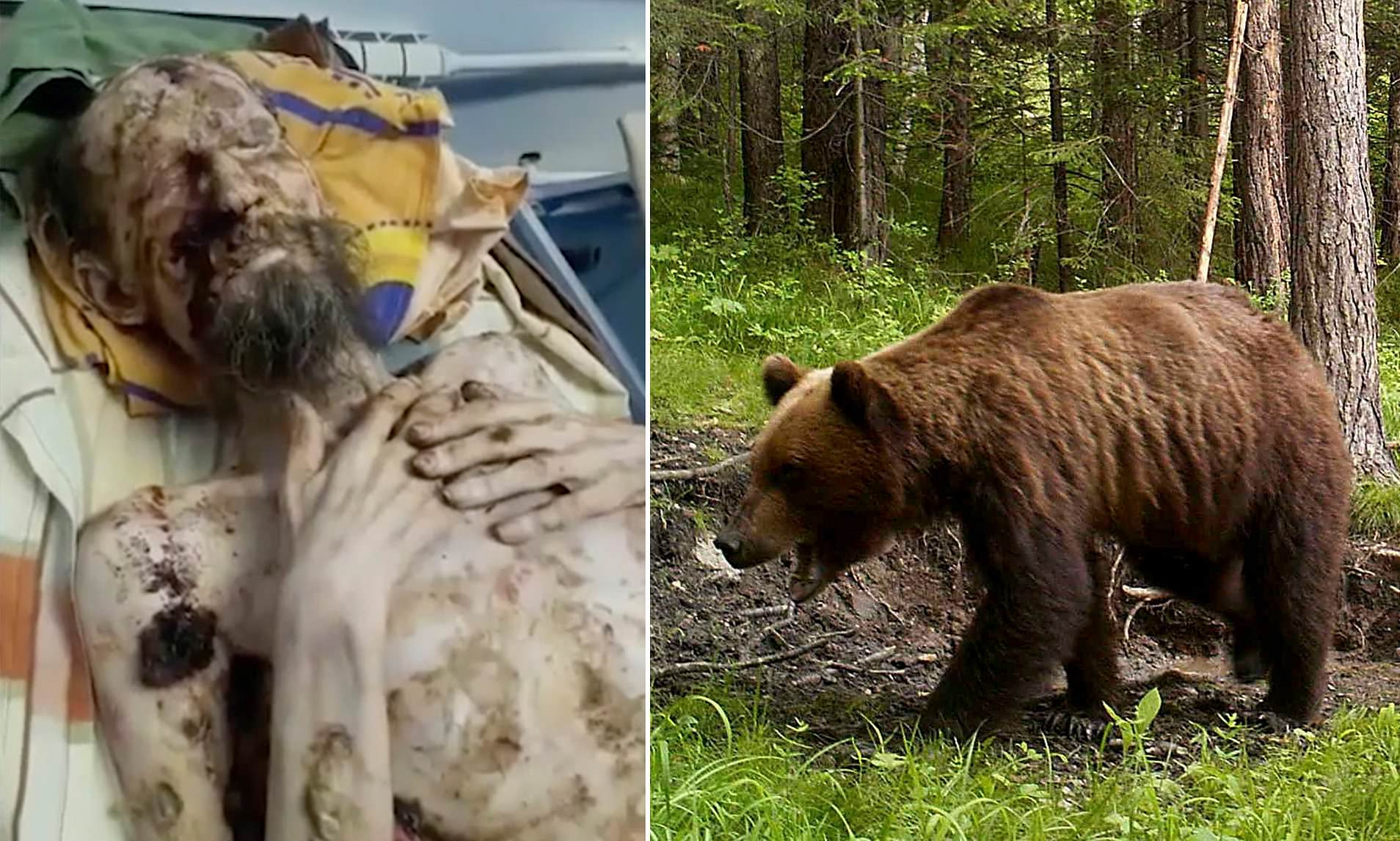 Alexander said that he had been inside the cave for a month.
Medics said that the man could barely even open his eyes and lift his arm when he was brought to the hospital.
But the Tuva Republic said that this incident "probably happened outside Tuva."
The Spokesperson of the Health Ministry in the Tuva Republic, a region in Siberia, said, 'We cannot confirm the case happened in Tuva. It was not registered by the Ministry of Health, the Emergencies Ministry or any other official body (in the region). Most probably, it happened somewhere outside Tuva.'
It is known that brown bears bury the animals they kill and sometimes, they wait for weeks or sometimes days before they return to it.
Brown bears are also known for hiding their kills from other bears so the meat can decompose and "ripen".
Alexander managed to tell the medics that he had to drink his own urine so he could stay alive and was mainly worried that the bear would return and eat him.
The doctors said that it was a "miracle" that Alexander was not killed by the bear and by the fact that he managed to survive for so long without any food or water and having all these injuries.
According to a local news agency, Alexander only remembers his first name and does not remember how old he is or what his surname is.
A local news agency said, "Local medics say they cannot explain how the man survived such injuries."
It is still not confirmed how the recovery of Alexander is going at the hospital, but authorities revealed that he is receiving treatment in a hospital.