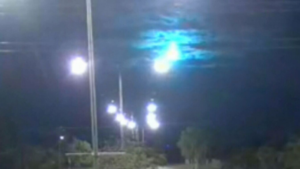 Sky Turns Blue Overnight After Meteor Passes Over Central Australia
Last night, the sky turned blue in central Australia, after a huge meteor passed over it.
Whoa! CCTV footage captured the moment Alice Springs and Tennant Creek were lit up by a passing meteor overnight. #ntpfes pic.twitter.com/XVR6u5e6Yj

— NT PFES (@ntpfes) May 20, 2019
Cameras in Tennant Creek and Alice Springs, caught the sky turning blue during the night, which is something that does not happen very often.
James O'Brien, the Police Duty Superintendent, of the NT Police said, "We were a bit dubious about it. But then we started looking around our CCTV and the one in Tennant Creek sees this beautiful purple light coming down."
He added, "And the ones in Alice Springs basically show Alice Springs showing up like daylight. It was quite magnificent."
According to witnesses, the sky turned blue for about 5 seconds and added that they heard terrifying sounds that were similar to an earthquake.
A security camera captured the meteor passing near Alice Springs, it is still not known where the meteor landed.