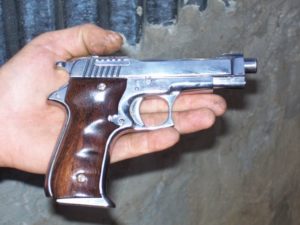 Stepfather Shot Dead By Son For Abusing Mother
Sick and tired of seeing his mother being beat up by his stepfather, a 24-year-old man from New Delhi decided to take the matter into his own hands and shot his stepfather dead.
Officials said that the incident happened in the Narela area of New Delhi on July 19, 2019.
After killing his 35-year-old stepfather, 24-year-old Munna Khan called the police and informed them about the incident.
DCP (Deputy Commissioner of Police) Gaurav Sharma released a statement about the incident.
He said, "Khan called Narela Industrial Area police station and informed them about the incident. Police immediately reached the spot and the accused was nabbed."
When the police arrested and interrogated Khan, he said that his stepfather was frequently abusing his mother and he was annoyed by this fact.
Khan admitted that he committed the crime because he was fed up with it.
The police also recovered the country-made pistol that Khan used for shooting his stepfather.
Khan said that he got the gun from Bihar.
Khan owns a tea stall in the Narela area of New Delhi.