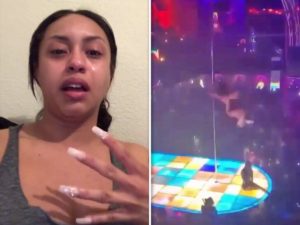 Stripper Falls Off 15-Foot Pole, Continues To Twerk Despite Fall
Genea Sky, was all over the internet a couple of days ago after a video of her falling off a 15-foot pole as she was dancing in a strip club went viral on social media.
The Texas strip club where the dancer was performing, said they are taking no responsibility for the accident because the owner of the strip club did not tell her to make the climb up to people.
this sums up my first str*p club experience, i really do hope she's ok 😭😭😭😭😭😭😭😭😭 pic.twitter.com/fA4Tu1mePL

— x (@xvreae) February 9, 2020
Geneay Sky went viral after on social media after seriously injuring herself over the weekend when she fell from a two-story pole on the main stage of XTC Cabaret in Dallas, Texas.
The club is calling the incident as an accident, but there are no plans to remove the stripper poles despite the horrific fall of Sky.
It is reported that Sky fractured her jaw, sprained her ankle, and cracked some of her teeth during the fall.
She reportedly underwent surgery for her injuries.
Eric Langan, the CEO of RCI Hospitality Holdings Inc., which owns the club, said the club is looking into helping Genea financially.
But due to the fact that she is not a full-time employee at the strip club, she cannot get the worker's compensation.
The club says the strippers in their club choose their own routine. This means the owners do not have control over the dancer's art form.