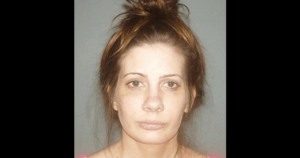 Teacher Jailed For Having Sex With 15-Year-Old Girl Student In Jersey City
36-year-old Lauren Coyle-Mitchell has been sentenced to spend 5 years in jail for admitting to having sex with a 15-year-old girl student from Dr. Lena Edwards.
The incident happened in 2015.
Lauren admitted that she had sex with a 15-year-old girl student from the Dr. Lena Edwards Academic Charter School in Jersey City.
It is reported that the student-teacher "affair" started when the teacher started to send text messages to the teenager.
The teacher admitted that their text messages became "emotionally and morally damaging".
The teacher admitted that she performed oral sex on the 15-year-old girl, who was in 8th grade, in 2015 at her home.
During the plea hearing at the Superior Court in Hackensack, on 31 July 2019, the attorney of Coycle asked her if she acknowledges the acts.
John Latoracca, the attorney of Coyle Mitchell, said,  "Do you acknowledge that these acts were emotionally and morally damaging to this woman?"
Coyle replied, "Yes."
Mitchell pleaded guilty and did not go through a trial.
She pleaded guilty to aggravated sexual assault and endangering the welfare of a child.
As part of the plea bargain, Mitchell will be serving 5 years in prison, and she will be eligible for parole after spending 4 years and 3 months in prison.
Mitchell will face lifetime parole supervision and will be registered as a sex offender.
Mitchell was first arrested after fellow teachers reported that Mitchell and a student had an "inappropriate contact".
Mitchell was released on a $150,000 bail afterward.
After she was charged by the police on June 2015, Mitchell, the teacher, attempted to clear her name and posted a status on Facebook.
In the post, Mitchell said, "Tragic accusations have been brought up against me. They are not true, and my name will be cleared."
Mitchell was arrested by the police for the 2nd time after she tried to contact the student.
Reports suggest that the 15-year-old student received 2 calls from a restricted number and one SMS that mentioned the "pet name" for the student.