Texas: Father And Son Graduate From Police Academy At The Same Time
Once in a lifetime moment!
A father and son graduated from the same time at a police academy in Texas, USA.
Such an amazing thing to achieve!
The touching story that we are talking about represents Winston and Christian Edmondson.
Winston, the father, and Christian, the son, completed their police academy journey from the Texas law enforcement training program together.
According to CBS11 KTVT, Winston and Christian are the first father and son duo that graduated together.
Such an amazing thing to achieve!
Damon Ing, a part of the Tarrant Law Enforcement Academy, released a statement about the incident.
The statement reads:
As we all know, police officers are entering a very turbulent time in our society and it was very refreshing that a father and son duo wanted to actually come. I had been thinking about getting into law enforcement and I had been encouraging both my sons to get into law enforcement.
Christian and his father trained at the same time and started at the same time.
Not only that, Winston competed with his son and pushed each other to do better during their time together at the training.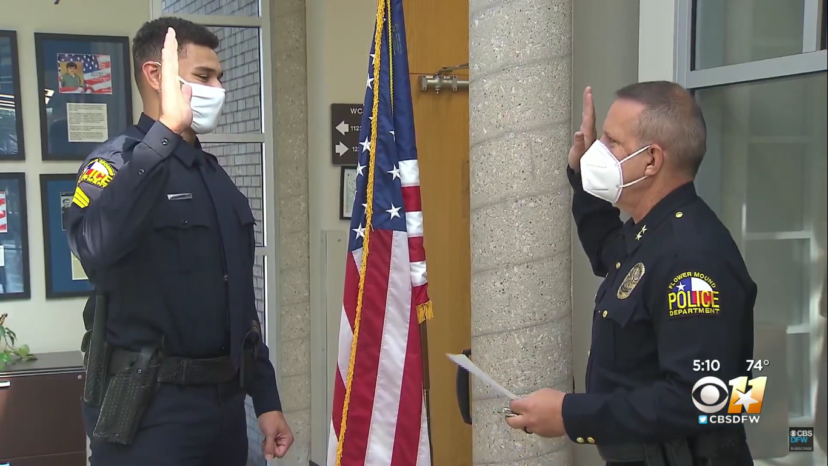 Christian also said that he had gone toe to toe with Winston, his dad, when it came to achieving something in the academy.
Talking about the competition, Christian said:
My dad and I are really competitive. This academy was good for both of us, I think, because it kinda gave us a bond,' the new graduate revealed about their academic time spent in each's presence.
Christian was sworn into the Flower Mound Police Department on November 19, 2020.
The sad part is that the 2 will not be working together.
Winston said that he was fine with graduating with his son.
What are your thoughts about this news? Let us know what you think about it by leaving a comment in the comments section below!