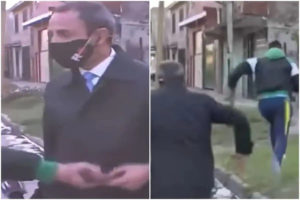 Thief Snatches TV Reporter's Mobile Phone As He Was Preparing To Do A Live Broadcast
A TV reporter from Argentina was robbed of his smartphone as he was preparing to do a live broadcast.
The entire incident was caught on cam and the video is currently viral on the internet. You can watch the video below:
Diego Demarco, the TV reporter, was gearing up for a live broadcast from the city of Sarandi when a man grabbed his phone and just ran away from the scene.
Demarco, who is a reporter for En Vivo El Nueve, was about to speak to a rolling camera to broadcast some news for the news station when a man, who could be seen wearing a hoodie, snatched his phone and ran away.
The man could be seen chasing the other man and could be heard shouting "give it to me, my phone got stole!" in Spanish.
El Nueve, the news station, shared the footage of the incident on social media, where it went viral right away.
The good thing is that the mobile phone Demarco was given back to him thanks to the kind neighbors that saw the entire incident happening.
The neighborhood recognized the robber and knew where he was living.
They went to the house of the thief and convinced him within minutes to hand it over.
Talking about the incident, Demarco said:
I am grateful that this has happened to me in this neighborhood because there is a commitment and solidarity. Right away there were like 10 neighbors apologizing to me. They themselves were the ones who activated a little and knew who the kid was.
The reporter said that he will not be pressing any charges against the man that stole his phone.
He also said that he only wanted his phone back, and with his phone back to him, he will not be doing anything.
What are your thoughts about the unusual incident? Let us know what you think by leaving a comment in the comments section below!