Turkish Hackers hack the Official Twitter account of Amitabh Bachchan and Changed his Profile Picture with President Imran Khan's
Hackers hacked the twitter account of Amitabh Bachchan, a Bollywood superstar. The bio, the cover photo, and his profile picture were changed by the hackers.
The profile picture of Amitabh Bachchan was changed with the Picture of Imran Khan, the President of Pakistan.
The hackers also tweeted "Love Pakistan" and tagged Imran Khan along with it.
The hack is believed to be carried out by a Turkish Hacking Group.
Another tweet that was made, it said, "This is an important call to the whole world! We do condemn the irrespective behaviors of Iceland republic towards Turkish footballers. We speak softly but carry a big stick and inform you about the big Cyber attack here. As Ayyıldız Tim Turkish Cyber Army."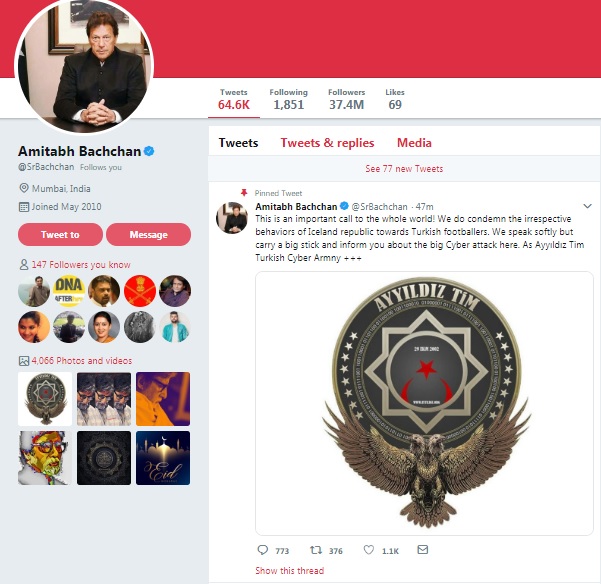 A report has been registered for the cyber-attack, the spokesperson of the Mumbai Police said that the cyber-crime unit has been informed about the incident.
It is believed that the same group hacked the accounts of Anupam Kher and Shahid Kapoor earlier this year.
The Twitter account of Amitabh Bachchan has more than 37 Million Followers and he is considered as one of the most active celebrities on the social media platform.