55-Year-Old Mother And 19-Year-Old Daughter Shower Together Every Day
When you were a kid, you took showers with your parents and we enjoyed it, but when you're old, there is something that's called privacy.
But that does not apply with a 55-year-old mother and 19-year-old daughter from Florida.
In a new series that is called Mothered, a show that runs on TLC, Mary, the 55-year-old mother, and Brittani, the 19-year-old daughter of Mary, are known for showering together every single day.
Yes, every single day.
In a preview clip of the episode, the mother and daughter could be seen in the shower taking baths together.
The mother could be seen standing behind her daughter.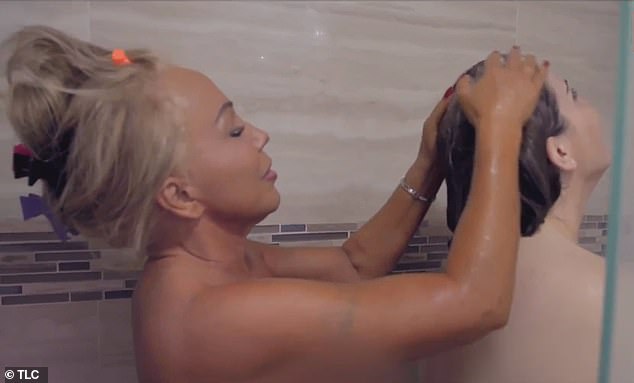 Talking about their unusual habit, Mary said that they have been showering together for years.
Mary said:
I have been taking showers and helping Brittani since she was five.
In the video that we shared above, Mary could be seen stepping in inside the shower and telling her 19-year-old daughter to move it.
As the water hit her, she could be heard saying:
Ah, that feels so good.
Not only that, the mother then started to wash the hair of her 19-year-old daughter, telling her that she needed to get a tan because is "so white".
If that is not creepy, wait for some more.
Mary says that the best day to start their day is by taking a bath together in the shower.
When asked what she thinks about people telling them that it is weird that a mother is showering together with her adult daughter, she said:
I love her, and I don't see anything wrong with it. I don't believe I set out to have a relationship this close to Brittani, it's something that was supposed to be.
Brittani feels the same way.
The 19-year-old daughter said:
When my mom does simple things like washing my hair or my body, it makes me feel comforted. Plus, I'm only 19, I haven't moved away. If that was the case, she would probably die from separation anxiety.
During an interview with the New York Post, Mary said that she started to take baths with her 19-year-old daughter so she could help her deal with anxiety and panic attacks.
The mother believes that her panic attacks are triggered by hot water.
Mary said:
That's kind of how I started getting in the shower with her, just to comfort her because she would freak out. That grew into an every-other-day thing. When she was smaller, it was every day.
However, Frank, the boyfriend of the mother, says it is the right time to make a change as Brittani is moving out of the house.
But Mary says that will not be happening in the foreseeable future.
She told the show on TLC:
It has caused some issues in my relationship, but he's got to accept it. That's how it is. He knows I love him, but I love my daughter more – she's my life.
What do you think about the relationship between Mary and Brittani? Let us know what you think by leaving a comment below.