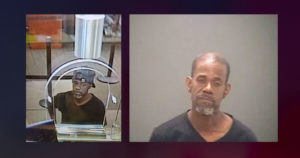 Man Uses Demand Note With Full Name And Address While Robbing Bank, Ends Up Getting Arrested
If you want to rob something, you want to make sure that you do not include your name and address on the slip of paper that you will be using to demand the things that you want, that will get you arrested and it is just dumb.
54-year-old Michael Harrell tried to order a teller to hand over the cash from a US Bank location in Cleveland at around 11 am on Monday.
Harrell reportedly used a note to tell the teller that he was there to rob the bank.
However, the note was written on the back of a document that was from the Ohio Bureau of Motor Vehicles.
The note that he passed had his whole name and address, which just made the case extremely easy.
Vicki Anderson, a Special Agent of the FBI's Cleveland field office, said:
When the teller took the note, and looked at it and looked at the other side, she saw his name. He had used a note that he had used earlier at the BMV and it had his name on it.
The teller referred to Harrell by his name and gave him an unknown amount of money before calling 911.
Investigators confirmed the identity of Harrell with the help of security cameras and issued a warrant for his arrest.
Anderson said that Harrell is not the first person to make such mistake when trying to look the bank or carrying out similar crimes.
Agent Anderson said:
We've had individuals drop cell phones that have all their identifying information in it. A lot of times, we're sending out pictures, we have no idea who this person could be or what part of town they could be from. And when you present a note that has your name already on it, and address, it helps law enforcement tremendously.
Harrell was not arrested immediately, but was later brought in.
The police released a statement at that time and said:
Anyone with information on Harrell's location is urged to contact the Cleveland Division of Police at 216.623.5000 or the FBI's Cleveland field office at 216-522-1400.
This has to be the funniest failed robbery that had happened in the recent times.