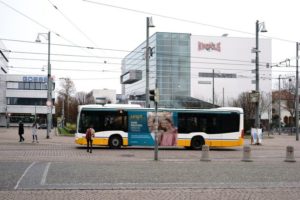 Female Bus Driver Attacked And Left Injured For Asking Woman Passenger To Wear A Mask In Germany
A woman bus driver was attacked and injured by a female passenger after she was asked to wear a face mask.
According to reports, the incident happened in the city of Darmstadt in Hesse, near Frankfurt, on Tuesday night.
The police are now searching for the woman, who is aged between 20 and 30.
She was part of a group that consisted of 3 men and a child.
They left the scene after the horrible attack.
Darmstadt Mayor Jochen Partsch has condemned the incident.
A statement that was released by Mayor Partsch said:
The people to whom this violence is committed are representative of all of us, and they are doing their job to protect us all. The currently increasing disrespect and violence against security forces, but also against fire departments, rescue and relief services and other employees in the public service must be stopped.
It was reported that the woman and her accomplices got on the bus at the Darmstadt Central Station.
None of the group members covered their mouths and noses with face masks, which are required to be worn when in public in Germany.
At first, the group insulted the driver after ignoring their requests.
At the end of the journey, the suspect struck the driver several times as she left the bus.